Ember Sword is a free-to-play online role-playing game (MMORPG) with a medieval setting built on the Ethereum blockchain (running on, allowing players to experience the game completely for free.
Players engage in combat, defeating monsters, bosses, and other players to collect items or NFTs. In addition, players can create characters, design lands, and collect warriors and weapons to fight.
Ember Sword with Outstanding Features
When coming to Ember Sword, players will experience many outstanding features:
Creative Freedom: Players are free to design and build their own land.

Game AI technology: A lively game world with real players and Player-to-Player (PVE) and Player-to-Player (PVP) combat gameplay and a vibrant virtual economy.

Ownership: The player has the right to own the collected lands and weapons.

Real Income Generation: Incomes are generated from battles, receiving items/NFTs and profiting from activities taking place on the player's land.

Game Level Diversity: It is expected that Ember Sword will be designed with more than 100 levels.

NFT transaction, easy land lease: Ember Sword has partnered with OpenSea.io so that players can trade and pay easily.
The main components in the game Ember Sword
Ember Sword Characters, Weapons, and Costumes
Ember Sword will have a certain number of characters for gamers to choose from. Each character will be equipped with the following skills: fighting, mining, fishing, woodworking, building structures in the game… Gamers will operate these characters to Build their own kingdom in Ember Sword.
Ember Sword uses 2 types of weapon systems: close combat (sword), ranged (gun, bow …). When participating in combat with monsters, players will have the opportunity to receive materials used to upgrade their weapons.
Gamers in the game Ember Sword can equip their characters with costumes made from materials such as metal (Heavy), leather (Medium) and fabric (Light). Gamers will have the opportunity to receive a material that matches their outfit during combat.
Cosmetic – collectible item
Each month, Ember Sword releases a number of new collectibles called Cosmetics Each Cosmetic is uniquely coded as NFT and has up to 500 Special Cosmetics. They can be accessories, avatars, emoticons, and costumes for the characters. Gamers can get this Cosmetic by winning in PvP or PvE battle mode. In addition, players can also use Ember to buy Cosmetics from game publishers or other players on OpenSea.io.
The lands in the Ember Sword
Currently, Ember Sword has 4 main lands: Solarwood, Duskeron, Sevrend, Ediseau. However, the Ember Sword only developed the land of Solarwood.
Solarwood is divided into three main territories: Kingship, Wilderness, and Outlaw. In it, Kingship will be sold by Ember Sword to players to build their houses, the other two territories are where gamers will have to fight, destroy monsters and other players to earn Cosmetics as well as parts. reward yourself.
The lands in Kingship are also divided into 4 categories for gamers to choose from: Regular plot, Settlement plot, Town plot, City plot with the selling prices of 40 USDC, 400 USDC, 8,000 USDC, 80,000 USDC respectively. Currently, the sale of lands in the Kingship territory has ended.
Each piece of land has its own title for the owner.
For example: If the player owns the Regular plot, he will have the title of Sir (Mister) and Lady (Lady). Settlement plot will be Baron (Baron) and Baroness (Baroness/Baroness). The town plot will be Earl (Earl) and Countess (Countess/Countess). City plot will be Duke (Duke) and Duchess (Duchess/Duchess).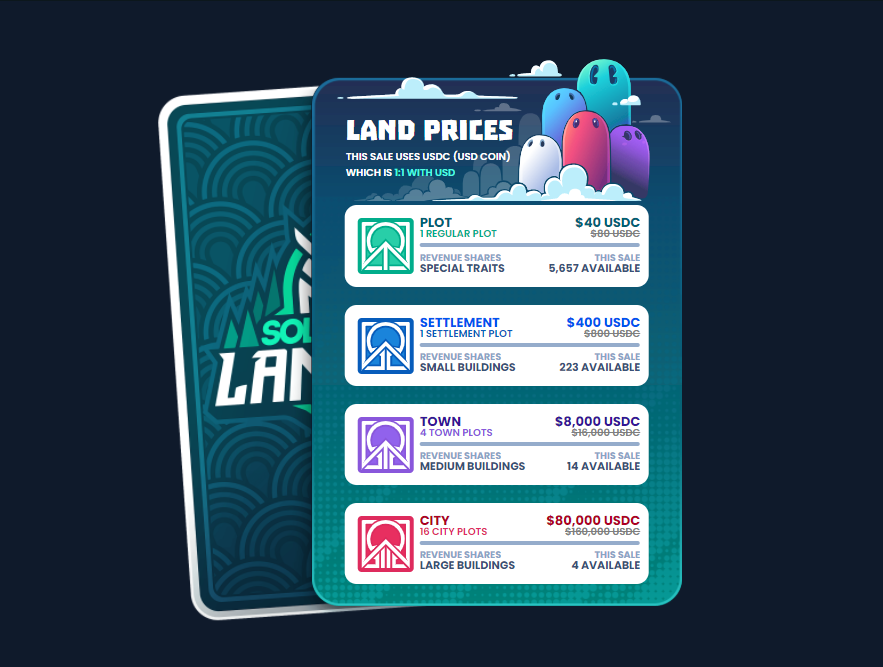 Gameplay of Ember Sword
Ember Sword creates a world called Thanabus, where gamers can immerse themselves in unique activities. Each player will build their own kingdom. Here, the player's characters will perform the tasks of exploiting resources including wood, stone … to build buildings such as houses, warehouses for items …
In addition, players can also participate in activities such as farming, harvesting and catching fish and shrimp. In particular, Ember Sword also has battle areas for players to fight monsters and other players. After each battle, players will have the opportunity to receive rewards such as accessories, avatars (avatars), emoticons and skins (clothes).
There are 16 skills listed to account for your character's progress, including:
Exploit

Wood gathering

Fishing

Skins

Harvest

Melting

Tanning

Textile

Process the wood

Armory

Jewelry training

Cook

Melee combat

Energy
The Role of Blockchain in Ember Sword
Ember Sword does not use blockchain to power the game entirely. Example: The game is hosted on servers in the US, EU and Asia and not on a blockchain server.
There is a small (but important) part of the game that uses blockchain, which is minting new collections each month via smart contracts on the Ethereum blockchain.
Cosmetics will be offered on a limited basis according to a predetermined schedule or contract and cannot be changed by anyone, including the publishers. This will create a scarcity and it is essential to make players want to own those assets.
There is one important advantage that blockchain offers, which is the security and portability of player prizes, rewards, skins (in this case cosmetic).
Usually, such items only exist in the game, and they don't accrue you any benefits when you're not playing, nor are they tradable outside of the real world. But with Blockchain, cosmetics or skin minted as NFT will be securely authenticated and registered with your name on the blockchain so anyone can view and verify. In other words, you become the real owner of the in-game merchandise and can also trade it.
Blockchain exists separately from the game server and it will provide additional protection for all your data from physical harm to the server.
For example, Rust – an MMORPG game, in a big fire, at its 30 servers located in France, Rust lost the saved data of thousands of users. These gamers not only lost their ranks, but they also lost all in-game items they owned, including paid items.
With a sophisticated technology that can prevent malicious attacks, player collections are more secure with the blockchain in Ember Sword.
Team
Ember Sword project development team
The Ember Sword development team from Bright Star company includes:
Mark Laursen – Founder & CEO of Bright Star

Joris Huijbregts – CTO

Sven Arnarsson – COO
Ember Sword Project Advisor
Jens Hilgers: https://www.linkedin.com/in/jenshilgers/
Randy Breen https://www.linkedin.com/in/randybreen/
Andreas Thorstensson: https://www.linkedin.com/in/andreasthorstensson/
Robert Jønsson: https://www.linkedin.com/in/robert-j%C3%B8nsson-86110a2/
Investors and partners
Ember Sword has received $2 million in investments from several organizations: Dialectic, Mechanism Capital, Delphi Digital, Animoca Brands, Yield Guild, DeFiance Capital, Coingecko Ventures, Weak Simp Capital and several others.
The game has also partnered with Immutable X to deliver over 48,000 NFT Ember Sword with no gas fees.
Information about Token Ember
Name token: Ember Token.

Code symbol (Ticker): Ember.

Blockchain: Ethereum.

Network: Polygon/ Matic

Token Standard (Standard): ERC-20.

Token Type: Updating.

Total Supply: Updating.

Use Code (Token Use Case): Can be used to buy land, items and some other collectibles. However, players cannot exchange gold in the game.
The main communication channels of Ember Sword
Ember Sword carries out project communication through the following channels:
Summary
Ember Sword is a game that many players expect, with the privilege of owning land plots and generating profits from the game process. Especially, players experience AI technology, which promises to bring many minutes. great seconds. However, Ember Sword is still in the finishing stage, we will continue to update news about the game in the near future.