In recent times, the trend of "Play to earn" in Crypto is hotter than ever. Surely many of you know the Axie Infinity game platform has been very successful recently, the AXS coin has x200 from the IEO price of Binance. Accompanying Axie Infinity is also a project from the Vietnamese team, which is the game My DeFi Pet. In this article, I will introduce to everyone a similar product that is My Defi Pet, let's learn with Coin68 how to play the game My Defi Pet!
What is My DeFi Pet (DPET)?
My DeFi Pet is a traditional virtual reality pet game platform combining DeFi, collections and personalization features in the form of NFT built on the Blockchain platform. My DeFi Pet uses non-invasive cross-chain technology from Kardiachain allowing development on any blockchain. Currently, the project is integrating Binance Smart Chain on its platform.
Main features of the game
Collect: collect
Breed: Breeding
Evolve: Evolve,
Season and Event: Season and Events
Battle: Battle feature, experimental.
Trading, Ranking, & Social Features: Marketplace exchange features, leaderboards, and team creation, social interaction features.
Collect
Collect animals through two forms:
Consume a certain amount of DPET tokens, and get random eggs.
Auction to get a pet
Breed
This feature allows combining any 2 pets to create a new pet that inherits the genes of the parent pet.
Evolve
Each pet has certain levels and evolutions depending on its rarity. Players can level up their pets by feeding them DPET tokens.
Season and Event
This is the event feature of the game. The first season will begin with a prize pool of 100,000 USDT, as the My DeFi Pet team locks the bounty in a smart contract. A contest requirement for contestants may be to track down NFTs with exact specifications as specified in the contract, and then submit them to the contract to claim a reward. Specific requirements will be decided upon launch. It is expected that the prize requires 10 legendary pets of the maximum level.
My DeFi Pet Platform Technology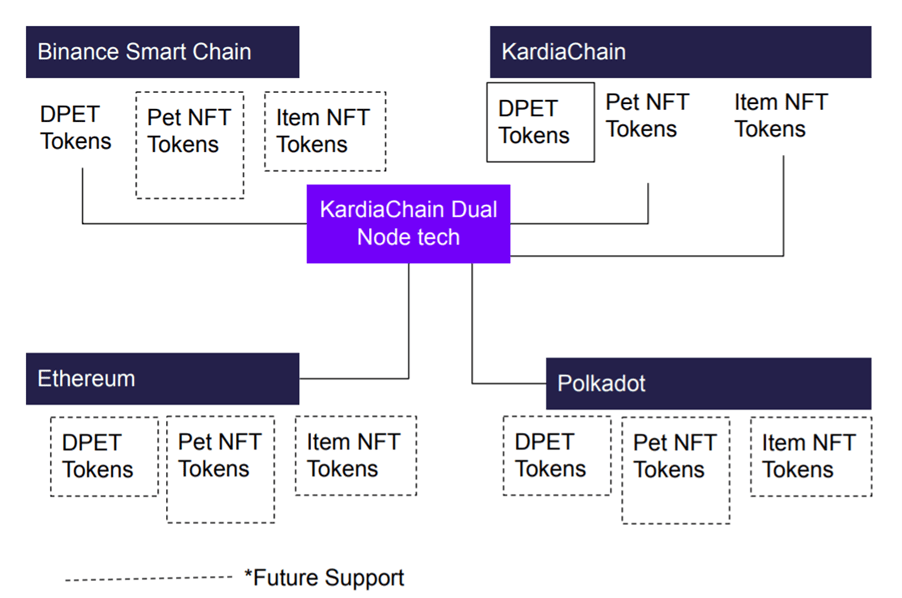 What is My DeFi Pet Token (DPET)?
DPET is the token of the My DeFi Pet platform. There are the following main functions:
Currency: The DPET token is the main currency in the game. It will be used to buy, sell, trade, improve your pets and their special qualities, mainly in the early stages.
Governance: Vote for new game features and settings to earn special rewards. Lock DPET tokens for a certain time to get voting rights.
Staking: Farm pools will be created for players to deposit DPET and get rewarded with new items or with the DPET token itself.
Play to Earn: Get DPET tokens by completing in-game quests.
Some basic information about My DeFi Pet (DPET) token
Token Name: My DeFi Pet token
Ticker: DPET
Blockchain: Binance Smart Chain
Token Standard: BEP-20
Contract Address: 0xfb62ae373aca027177d1c18ee0862817f9080d08
Circulation supply: 6,878.202.33
Total Supply: 100,000,000 DPET
Allocate My DeFi Pet Tokens (DPET)
Private Sale: 21.875%, 10% monthly distribution
Public Sale: 1.562%
Team: 16.5%
Partner: 10%
Advisor: 3%
Provide exchange liquidity: 1.25%
Reserve: 18.812%
Marketing: 27%
Team and Advisor
Team

Advisers
Tri Pham: CEO & Co-Founder of KardiaChain. Tri founded KardiaChain in 2018 as an initiative to fix the fragmented blockchain ecosystem. KardiaChain invented the non-invasive Cross-chain technology called Dual-node.
Ho Danh: Yeah1 eDigital Development Manager. He joined Yeah1 from the early days of its establishment, Danh has made many important contributions to the development of the group. He is currently in charge of the development of Yeah1 eDigital.
Jerome Wong: Co-Founder & CBO, Everest Ventures Group (EVG). Wong is Animoca's blockchain game business advisor and advisor to several other projects such as Flow, Sandbox, Gamee, Lightnet, HKbitex. He has raised over $60 million for projects.
Wayne Lin: Founder of Axia8 Ventures Wayne, and an experienced blockchain consultant and advisor for many famous projects, which have successfully launched, such as Solv. Protocol, Kickpad, Dorafactory, Injective Protocol, Kira Network, Findora.
Investors
Earn and own My DeFi Pet Tokens (DPET)
DPET is currently trading on the centralized exchange MXC Exchange and two decentralized exchanges PancakeSwap or Uniswap.
My DeFi Pet Token Storage Wallet (DPET)
DPET is a BEP-20 standard token, you can store mainly two standard wallets today, Trust Wallet and SafePal Wallet. Or save at Metamask (Binance Smart Chain network settings)
Similar projects
Instructions for playing the basic My DeFi Pet game
Step 1: Install Wallet and Connect Metamask Wallet to Binance Smart Chain.
After installation is complete, you must withdraw BNB from Binance to Metamask wallet to use as transaction fees and buy DPET tokens to do tasks on the Game.
Step 2: Buy DPET tokens on Pancakeswap.
Step 3: Visit Website https://play.mydefipet.com/app/games/bsc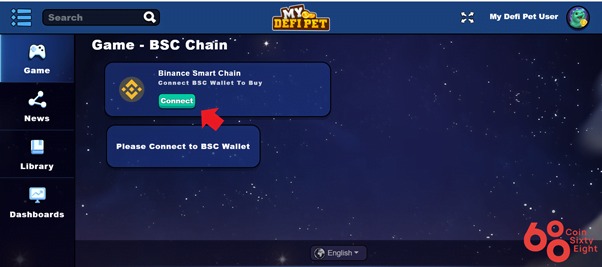 Step 4: Connect wallet to Metamask by selecting "Connect", then authenticate on Metamask wallet
Step 5: The main interface downloads and displays as below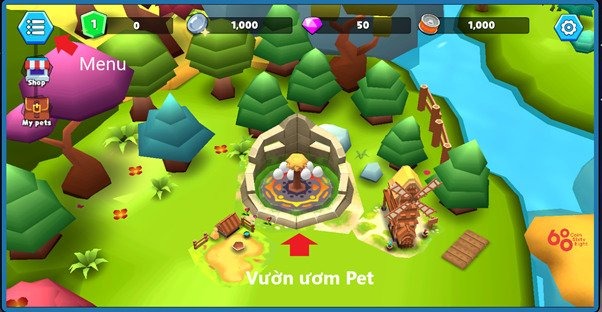 Now you are rewarded:
1,000 coins: to buy cages, pets, eggs and land
50 diamonds: increase the speed of raising animals and harvesting crops
1,000 food combinations: Feed your pets to level up
Step 6: You choose "Pet Nursery" to claim the egg section.
Confirm on Metamask wallet, to Claim the egg, all 3 DPET tokens will be lost. Therefore, you must buy DPET tokens on Pancake first.
There are also two features:
Capes: Build a cage for Pet
At different levels, you can build different cages and move animals from the nursery to the cage.
Buildings: Farm Plot is land for growing plants. The higher the level, the more land you can buy.
When you first create your account, you will be given 2 pieces of land. Grow corn to create food for animals.
Harvest at Farm House
Happy Forest breeding feature. When you play to a high level, there are 2 animals that can be mated here.
Barbaria Cage: with the function of a cage for animals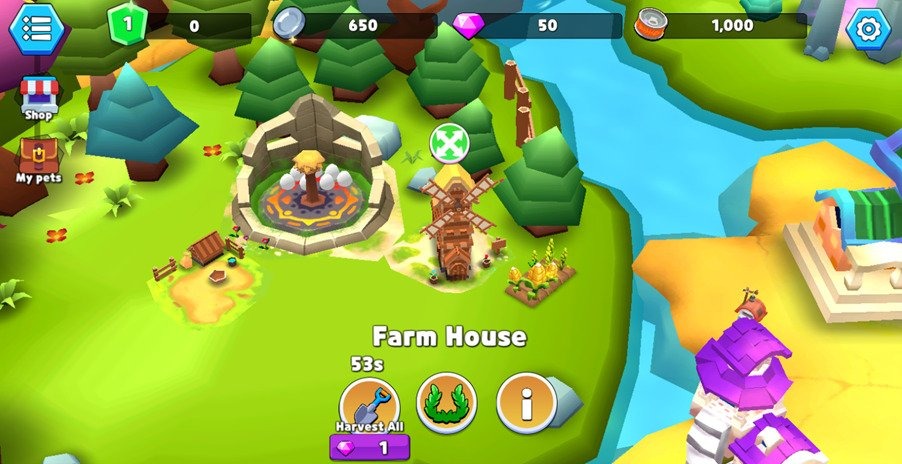 Brothers raising animals in the barn will earn money, when upgrading animals to a higher level.
Above are the basic instructions for you to start playing games on Binance Smart Chain. In addition, you can also use the Kardia Chain network to play games with cheaper transaction fees.
DPET Token and Market
DPET is the native cryptocurrency of My DeFi Pet, and it's used for various functions within the game. The token is an ERC-20 token that operates on the Ethereum blockchain, making it easily transferable and compatible with other DeFi protocols.
DPET has a relatively short history, as the game was launched in July 2021. The token was initially offered at a price of $0.05 per token during the initial coin offering (ICO). Since then, the price has seen some fluctuations, with the token reaching an all-time high of $3.74 in August 2021. However, the price has since dropped, and as of May 2023, it's trading around $0.75.
DPET has a total supply of 100 billion tokens, with around 12 billion tokens currently in circulation. The game's developers have implemented a deflationary mechanism to increase the token's value over time. This mechanism burns 2% of the tokens used in each transaction, reducing the total supply over time.
To buy or sell DPET tokens, you'll need to use a cryptocurrency exchange that supports the token. Some of the popular exchanges that list DPET include Binance, Gate.io, and BitMax. Keep in mind that cryptocurrency investing is inherently risky, and you should only invest what you can afford to lose.
The DPET market outlook is mixed. On one hand, the game's popularity continues to grow, with an active community of players and developers regularly releasing new features and updates. Additionally, the token's deflationary mechanism could help increase its value over time.
On the other hand, like all cryptocurrencies, the DPET token's value is subject to market volatility and can be influenced by a range of factors, such as broader market trends, regulatory changes, and the success of competing DeFi games.
Advantages and Disadvantages of My DeFi Pet
My DeFi Pet is an exciting new DeFi game that combines elements of NFTs, pet simulation, and RPGs. Like any game or investment, it has both advantages and disadvantages to consider before diving in.
Pros of My DeFi Pet
Unique gameplay: My DeFi Pet offers a unique gaming experience that sets it apart from other DeFi games. The combination of pet simulation, RPG, and NFTs allows players to engage in a variety of activities, including training, battles, and breeding, making it an excellent choice for gamers who are looking for something different.
Potential for profit: My DeFi Pet is built on the Ethereum blockchain, and players can earn rewards in the form of DPET tokens by participating in the game. Additionally, rare NFT pets can be sold on the secondary market for a profit, making it an appealing investment option for those interested in the DeFi space.
Community involvement: My DeFi Pet has a vibrant community of players, developers, and enthusiasts who regularly engage in discussions, share tips and strategies, and collaborate on new features and updates. This community involvement creates a sense of belonging and can enhance the overall gaming experience.
Cons of My DeFi Pet
High gas fees: My DeFi Pet operates on the Ethereum blockchain, which means players need to pay gas fees for every transaction they make. These fees can be high during periods of high network congestion, making it an expensive game to play for some.
Learning curve: My DeFi Pet has a steep learning curve, and new players may find it challenging to get started. Understanding the game mechanics, tokenomics, and market trends can take time, and players may need to invest in resources like guides and tutorials to help them navigate the game effectively.
Risk of scams: As with any emerging DeFi space, My DeFi Pet is not immune to scams and fraud. Players should be cautious of phishing attempts, fake websites, and other scams that may try to steal their personal information or funds.
The future of My DeFi Pet, should I invest in DPET coin?
My DeFi Pet is a pet game platform built on Blockchain, using KardiaChain's non-invasive cross-chain technology allowing the game to be integrated with most other blockchains. With the prevailing trend of NFT gamification, My DeFi has grown more than 20 times since the Public Sale price at the time of writing, as one of the game platforms developed by Vietnamese, My DeFi Pet is about to come soon. to develop DeFi features on his Game. All information in this article is researched by Coin68 and does not constitute investment advice. Coin68 is not responsible for any direct and indirect risks. Good luck!