Play to Earn is emerging as a popular business model and has become a ubiquitous trend in the DeFi gaming industry.
The article will give everyone some basic information so you can understand what is play to earn. Of course, this information is also quite enough for you to know about it.
What is Play to Earn?
Play to Earn is a model in which a platform offers players the opportunity to earn any form of in-game asset that can be transferred to the real world as a valuable resource.
Especially in the blockchain and NFT universe. Play to Earn gives players an effective opportunity to generate revenue by participating in the game. Players create value for other players and developers by participating in the in-game ecosystem and earning assets for their contributions.
How has Play to Earn evolved?
Like other industries, online gaming has also seen a multitude of trends such as massively multiplayer online battle arena (MOBA) games. A lot of names are mentioned and the list is constantly growing.
According to statista, it is estimated that the global games market will amount to $268.8 billion by 2025, up from $178 billion in 2021. Real gaming consideration is encouraged in many nations.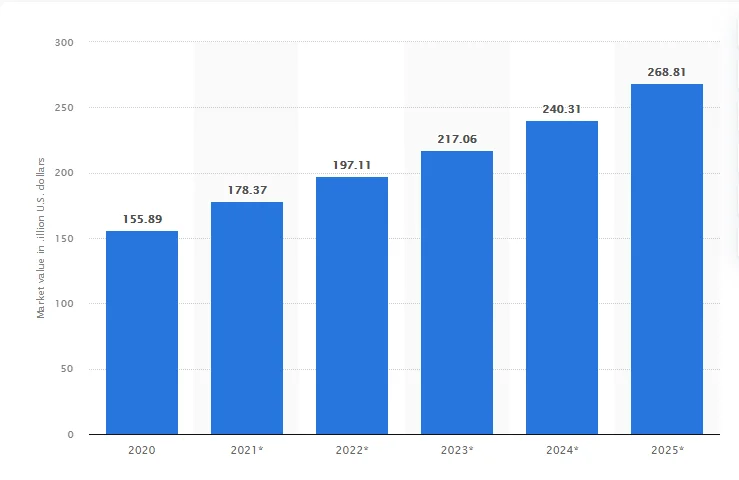 The crypto industry has recognized the potential of this growing segment that blockchain-based technology can positively impact. This was largely made possible through the explosion of Non Fungible Token (NFT). Developers understand that they can create and deliver tangible value within the gaming ecosystem, providing extra motivation for those who spend time gaming.
This is how the Play to Earn model and especially related to cryptocurrencies was born and started to grow rapidly.
In this article, I and everyone mainly explore the Play to Earn model in the cryptocurrency industry, some concepts to consider and the top famous Play to Earn games.
Key components of the Play to Earn model
A key component of this model is providing players with "ownership" of some of the content in the game and allowing them to add value by actively playing the game.
In crypto, determining ownership or transferring it can be done through the use of NFTs.
By participating in the in-game economy, players create value for each other in the ecosystem and developers. In return, the player receives a reward in the form of in-game assets. These assets can be anything from characters with scarcity to cryptocurrencies. For example, in Axie Infinity, players earn Small Love Potions (SLP).
The main idea is that in play to earn games the player is rewarded for putting more time and effort into the game.
It's a refreshing event in the cryptocurrency market. It only became popular recently, especially with the advent of a flagship project- Axie Infinity, after which many more projects were formed.
Is the Play to Earn game free?
About the question: Play to Earn game free or not? Of course the answer is yes or no. This is completely based on the vision of each game developer. For example, you can find a free game. But there are some other games that you want to play that require you to contribute something.
The benefit of the Play to Earn game is that the player generates some marketable value. Even if they need to pay to start playing, these items can then be sold for potential profit.
It can be seen that most free games require some form of early financial commitment to unlock basic abilities and complete the game.
How to get started with Play to Earn game
Depending on each Play to Earn game, there will be different requirements for new players. At the basic level, you will need a feature-rich wallet to store your cryptocurrency and connect it to the game.
Coin98 Wallet is the top choice for this. If you are new to Coin98 Wallet, you can enter the BTA ref code to support as follows: "C98NBDN89Q".
You may also need initial capital to play, such as setting up a team of characters or purchasing items used in the game.
Example:

As of October 2021, Axie Infinity requires an initial investment of approximately $600 to purchase three Axes. While players can be re-earned within a few months of playing, it still creates a barrier to entry.
One option, you can borrow Axies from other players for free and then share the earnings you receive. Once you've created your starter team and completed the quests, you'll start earning a steady stream of SLP.
Some of the most popular Play to Earn games
Axie Infinity
Axie Infinity is undoubtedly the most popular Play to Earn game in crypto. The project is inspired by some popular games like Pokémon and Tamagotchi. Players can collect, breed, breed, battle, or trade token-based creatures, of course, called Axies.
The native token of the protocol is AXS and it is used to participate in the management. AXS can also be staking.
However, there are SLP tokens, which can be earned by playing games. It can be used to create new Axies. Players can accumulate SLP throughout the game and this is how they can basically earn. AXS and SLP brothers can both be traded on Binance.
It is clear that the player's earnings will vary based on the SLP price at the time they sell. If there is a high demand for it, then their income can increase accordingly.
Decentraland
Decentraland is a very popular game. The project was launched in 2017 through an ICO, which raised $24 million.
It is a virtual world, a parallel universe running on Ethereum, and players can create, experience and monetize different content and apps. User can buy plots of land. Then they can moderate it in a way that makes it more appealing, they can build it and potentially monetize it.
Decentraland's native is MANA. MANA is an ERC-20 token and it can be burned to obtain ERC-721 LAND tokens. MANA can also be used to pay for different names, avatars and other things available on the Decentraland marketplace.
The future of Play to Earn
Play to Earn games, like Axie Infinity, have been helping people around the world especially the countries hit hard by the pandemic to earn a large sum of money. Other NFT games include Lost Relics, Splinterlands, CryptoBlades, and more.
The NFT market surpassed $2.5 billion in revenue in 2021. This number is set to grow exponentially as new NFT games flood the market. The boom of NFT is creating a new generation of revenue streams inside the blockchain world, and it will probably surpass many other industries.
Summary
From the above basics, Play to Earn is currently very fertile and is expected to grow strongly in the future thanks to the boom of NFT. Many believe that blockchain gaming is the future of the video game industry. Play to Earn is becoming a viable business model that allows both developers and players to earn money. And you, how do you feel about this trend?
This article is for informational purposes only and is not investment advice. Thanks!