DeFi Dashboard is a protocol that makes it easy for DeFi investors to track all investments distributed in various forms, such as token holdings, liquidity being provided, assets as collateral, and loans.…
So, What is DeBank? 
DeBank is a DeFi information tracker that tracks over 1000 protocols across 35 blockchains. DeBank gives users an overview of investments, including tokens held, liquidity positions, outstanding loans/debts, and uncreated yield rewards on-chain.
Main functions of DeBank
DeBank provides 4 main functions::
Profile: Detailed information about the user's wallet address.
Bundle: Track any wallet address.
Feed: Social Network (Coming Soon).
Web3 Social ranking: Track wallet addresses of KOLs in the crypto market.
Profile
This is a platform feature that DeBank is aiming for, tracking the number of tokens held, the number of deposits and loans on the platforms, and the health of those loans. Currently, DeBank can test most dApps on 34 different blockchains. In Profile, there will be 3 main tabs: Portfolio, NFT, and History.
Portfolio
This is the place to check the portfolio value of assets in the form of coins and tokens that the wallet address holds.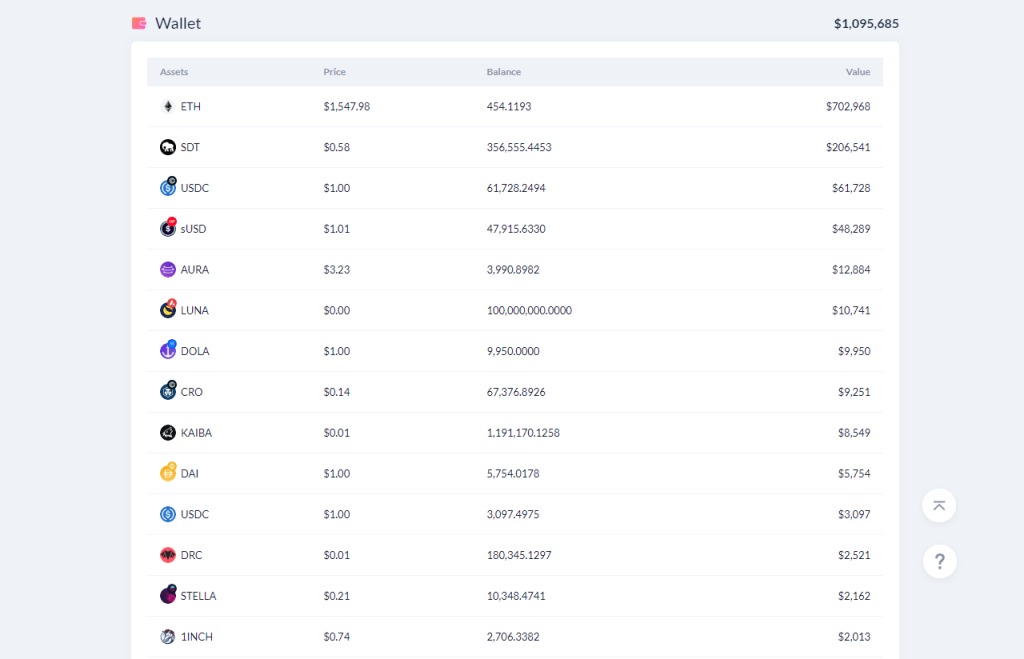 Liquidity on platforms such as Concentrator or Stake DAO is displayed in detail.
Loans and loans across platforms are all displayed in detail, along with loan health.
The Portfolio Board is a DeFi tracking wallet where you keep track of your DeFi portfolio from various DeFi products.
As a professional DeFi wallet, the most important thing is calculating your online portfolio accurately and quickly. DeBank has made it possible to connect MetaMask and switch between multiple accounts easily.
When you enter any Ethereum address (ENS supported) or choose to connect your MetaMask wallet, DeBank will retrieve real-time smart contract data from various DeFi products and present a portfolio of Your investment with detailed statistics (mortgage rate, APY, leverage ratio, liquidation price,…)
NFT 
Here will show the NFT collections that the wallet address owns. The total net worth of the collection
Users can also track the profit and loss details of the NFTs that this wallet address trades on OpenSea.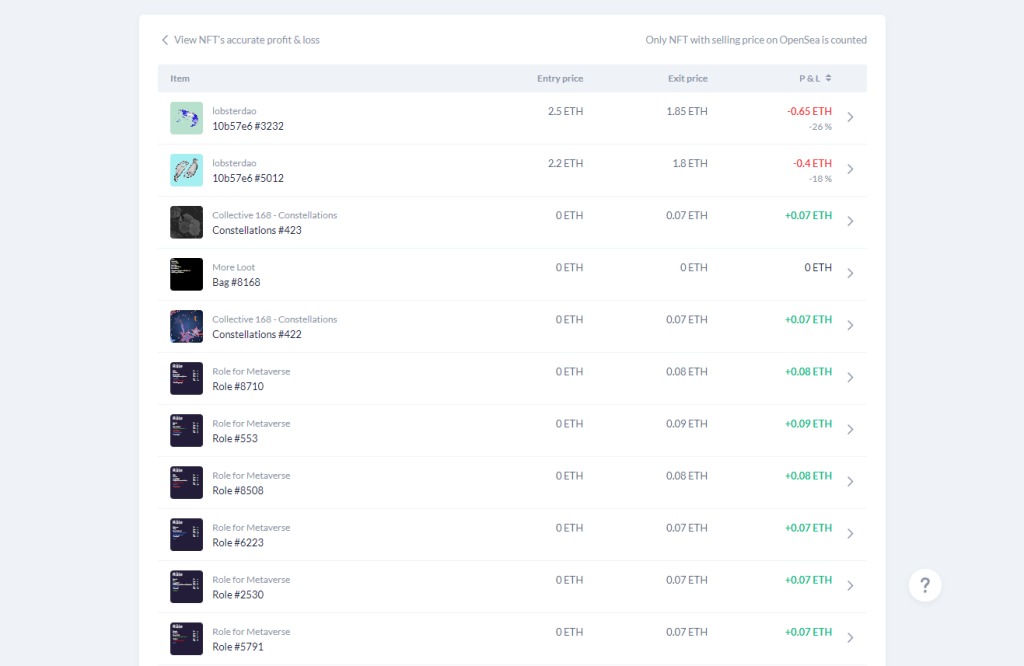 History
Show all transactions of the wallet address.
Feed (BETA)
It is a new feature developed on DeBank. Usage is similar to social networks like Twitter, but the information of interest on this platform will be large-value transactions, including tokens and NFTs.
Feed is in the development process, so it will need more users to bring useful information to users.
Bundles
This is where users can create a list of wallet addresses they want to track. If an investor has many investments at different wallet addresses or wants to follow a group of wallets of investors with a high-yield portfolio.
Web3 Social Ranking
This is a ranking of wallet addresses with the highest social network scores in the top 10000 wallet addresses on DeBank. Most of the top addresses are owned by famous KOLs.
The social network score is calculated by adding the base score to the weight.
Key points include:
ETH balance
Number of followers (with a minimum balance of $1000)
NFT on ETH (calculate the number of collections and the number of NFTs)
Liquidity across protocols (over 1000$)
Age of wallet address
Number of protocols and NFTs collections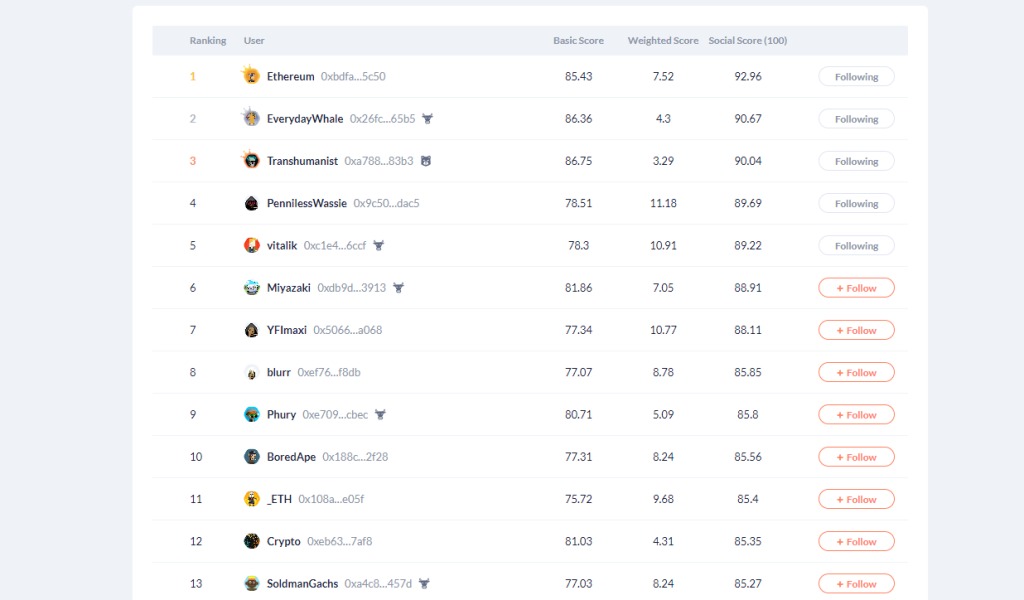 Team
DeBank co-founders are Chinese software engineer Hongbo Tang and his partner Xu Yong. The other team members are Guo Haochuan, Ma Yiwen, Sacho, and Wang Yanqing.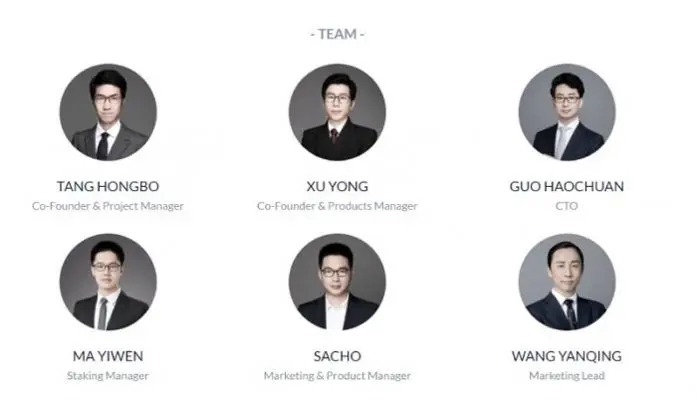 Partners
DeBank has top Defi projects as their "ecosystem partners," including 1inch. exchange, Aave (LEND), dex.blue, DeFi Pulse, Curve, ParaSwap, Idle, Trust Wallet, Math Wallet, Meet.one, imToken, TokenPocket, Opium, MCDEX, Zapper, USDK, Mykey, Leverj, pBTC and many more.
Advantages of Using DeBank
DeFi can be a complex and intimidating space for investors, especially those who are new to the world of cryptocurrency. That's where DeBank comes in. This DeFi assistant offers several advantages to investors who use it to manage their investments.
Improved Accessibility to DeFi
One of the biggest advantages of using DeBank is improved accessibility to DeFi. The platform aggregates data from different DeFi platforms, allowing investors to view their investments and transactions all in one place. This means that investors no longer have to navigate the often-confusing interfaces of multiple DeFi platforms to manage their portfolios.
DeBank also provides a comprehensive list of DeFi platforms and projects, along with up-to-date information on each one. This makes it easier for investors to find and compare different DeFi options and make informed investment decisions.
Better Portfolio Management
DeBank offers several tools to help investors manage their DeFi portfolios. The platform provides detailed information on each investment, including price history and performance metrics. This helps investors track the performance of their investments over time and make more informed decisions about when to buy or sell.
DeBank also offers customizable alerts and notifications, which can be set up to notify investors about price changes, new project launches, or other important events in the DeFi space. This feature can help investors stay on top of their investments and take action when necessary.
Safer Investment Decisions
Investing in DeFi can be risky, and it's important to do your research before investing in any project. DeBank provides investors with valuable information on each DeFi project, including audits, security ratings, and other important metrics. This information can help investors make safer and more informed investment decisions.
DeBank also offers a feature called "Safety Mode," which helps investors avoid high-risk investments. This feature identifies projects with low liquidity or high volatility and alerts investors to potential risks. By using Safety Mode, investors can avoid risky investments and reduce their chances of losing money.
How to Use DeBank
Getting started with DeBank is easy, and the platform is designed to be user-friendly. Here are the steps to using DeBank:
Registration and Account Set-Up
To use DeBank, you'll need to create an account. This can be done by visiting the DeBank website and clicking on the "Sign Up" button. You'll be asked to provide some basic information, such as your email address and a password.
Once you've created an account, you'll need to connect your DeFi wallets to DeBank. This can be done by importing your wallets' public addresses into DeBank. This will allow DeBank to pull data from your wallets and display it in the DeBank interface.
Connecting to DeFi Platforms
DeBank supports several different DeFi platforms, including Ethereum, Binance Smart Chain, and Polygon. To connect to these platforms, you'll need to provide your wallet's private key or connect your wallet through a web3 provider like Metamask.
Once your wallet is connected, DeBank will automatically pull data from the DeFi platforms you're connected to and display it in the DeBank interface.
Navigating the DeBank Interface
The DeBank interface is designed to be user-friendly, with intuitive menus and easy-to-read charts and graphs. From the main dashboard, you can view your portfolio balance, recent transactions, and alerts and notifications.
You can also use the menu on the left-hand side of the interface to navigate to different sections of DeBank, such as the DeFi project list, the analytics dashboard, and the safety mode settings.
Future of DeFi and DeFi Assistants
DeFi has come a long way in a relatively short amount of time. Since the launch of the first DeFi project in 2019, the DeFi space has grown rapidly, with billions of dollars of value now locked into various DeFi projects.
As DeFi continues to mature and evolve, we can expect to see continued innovation and development in this space. Here are some potential future developments for DeFi and DeFi assistants like DeBank:
More Advanced Analytics and Tools
As the DeFi space becomes more complex, we can expect to see more advanced analytics and tools to help investors navigate this complexity. DeFi assistants like DeBank will likely play an important role in providing these tools, which could include advanced portfolio management features, automated trading algorithms, and more.
Increased Integration with Traditional Finance
As DeFi becomes more mainstream, we can expect to see increased integration with traditional finance. This could include the development of DeFi-based financial products, such as loans, insurance, and investment funds. DeFi assistants like DeBank will likely play a key role in facilitating this integration.
Greater Regulatory Scrutiny
As DeFi grows in popularity, it is likely to attract greater regulatory scrutiny. Governments and financial regulators are already starting to take notice of DeFi, and we can expect to see more regulations and guidelines put in place to govern this space. DeFi assistants like DeBank will need to stay up-to-date with these regulations and ensure that they are in compliance.
More User-Friendly Interfaces
As more investors enter the DeFi space, we can expect to see a greater focus on user-friendly interfaces. DeFi assistants like DeBank will likely play an important role in making DeFi more accessible to a wider range of investors, including those who are new to cryptocurrency and blockchain technology.
Conclusion
DeBank is still in active development. Some advanced features, such as Swap, and Token Approval Management, have been removed to provide a more consistent and better experience when using the Dashboard. However, if you want to use these features, you can download the Rabby wallet developed by DeBank.
DeBank is an indispensable application for DeFi users.
Although using DeBank is free, it is not excluded that if DeBank issues a governance token, a portion will be distributed to users with high ratings of Debank. Because it is these user groups that will attract ordinary users to use DeBank, besides the features it brings. So, if you are an active DeFi user, don't forget to register an ID on DeBank.