I know you are here to know what is an NFT community. Suppose you are new in the NFTs world. You must have heard, about the communities in NFTs.
An NFT community is a group of individuals or projects who are interested in NFTs. These NFTs communities are created to discuss all the updates with the other community members. These members could be investors, collectors, creators, and other projects as well.
To understand what is an NFT community. Let's deep dive into it.
What Is an NFT Community?
An NFT community is a group of individuals or projects with similar interests. There are two major types of NFT communities based on interest.
This interest could be general in all NFTs or in a specific NFT project. So one type is a general NFT community and the other type is a specific NFTs community. The general NFT community is the tree and the specific NFTs community is the branch of it.
General NFT community:
This community means if you and I, are NFTs enthusiasts no matter if you are interested in a specific NFTs project and I'm interested in another project. We are part of one community which is the General NFT community. The NFT projects are also part of this community. This is called a general NFT community.
Specific NFTs Community:
The specific NFTs community is built by the project creators to keep community members updated about the project updates. The community members of this specific NFTs community are the investors, collectors, and creators who are interested in buying the NFTs of this project. The community members are also allowed to share their thoughts about the project. These are specific NFTs communities.
How important are NFT communities?
NFTs communities are important because these communities gather people with similar interests, who can share knowledge and guide each other.
If the community size is big of the specific NFT community, it means the people trust this project and are interested to buy the project.
So, general and specific communities both are important.
Why should you join an NFT community?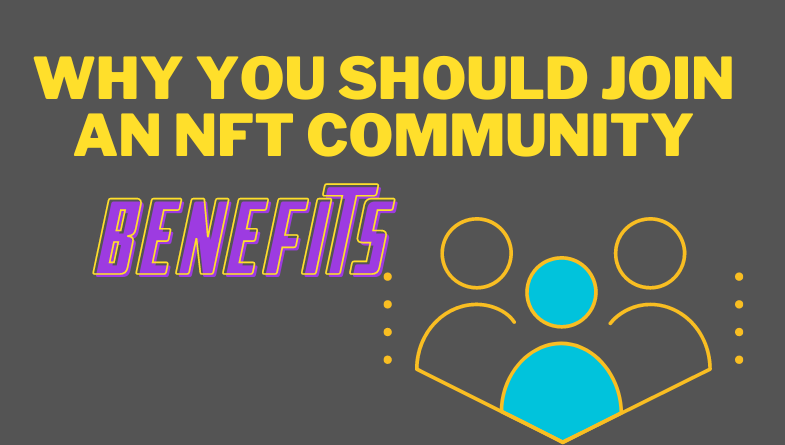 There are many benefits that an individual can get by joining the general and specific NFT communities. Here is the list of benefits.
Knowledge:
NFT communities are a good source of knowledge. New individuals in the NFTs community can gain a lot of knowledge by joining the community because there are many experienced NFT enthusiasts who share their thoughts and knowledge in the community.
Alpha information:
Alpha information is the premium information about the NFTs that can only be gained by joining alpha communities. This information is not accessible to everyone and everyone doesn't know about it. This information is only shared in some specific communities about the specific NFTs. So the collectors can benefit from it. So this is one of the benefits of NFT communities.
Get whitelisted:
You can not get whitelisted for an NFT project without joining their community. Yes, you heard it right. So NFT communities provide you the chance to get whitelisted for an NFT project. So you can mint NFTs of that project in the early stages and sell them at higher prices.
Events:
As I have mentioned above NFT communities are the group of NFT enthusiasts. These NFT enthusiasts are always ready to host different community events. These could be virtual and physical as well. Like drops, giveaways, concerts, parties, etc. Bored apes recently hosted a physical party event for their community members who own their NFTs.
Collaboration opportunity:
NFT communities provide a big benefit to their community members to collaborate with each other. In NFT communities there are a lot of experienced and new creators who share their thoughts and sometimes collaborate opportunities. So new creators and collectors can collaborate with an experienced one.
What makes a good NFT community?
A good NFT community is not about a community that makes your NFT trading good. There are multiple factors that play a vital role to make an NFT community good.
The major factor that makes a good NFT community is creativity. Creativity is the king that keeps the community members engaged. So if you are looking for a good NFT community, take a look at its engagement.
A good NFT community shares knowledge and educates its new community members who are new in the NFTs space.
The other thing that makes an NFT good is providing value to the community members and fulfilling the promises.
Good NFT communities build people's trust in their community by fulfilling their promises and providing an actionable roadmap.
How to find NFT communities?
NFTs communities can be found easily on social media like Twitter and discord. Communities mostly use discord servers and private apps to interact with community members.
You can search for hashtags on Twitter. Or find the official page of the project.
To join a specific NFT project community you can find the verified listing of that project on opensea and join their discord server community from the provided link on the page.
You can also join NFT communities on the project's private customized mobile apps that are specially designed to build the community. You can find the download app links on their official websites.
How to join an NFT community?
You can easily join NFTs communities.
Find a community:
The first step is finding a good NFT community if you want to join a general NFT community or finding a specific NFT community if you want to join the community of specific NFTs. It all depends on your interest. You can find communities easily by following the above-mentioned steps.
Join the platform:
Once you are landed at your desired NFT community.
Check the platform that they are using.
If the community is on the discord server download the application on your mobile or you can access it through your browser.
Create your account on the platform.
Join the community through a verified link.
Stay active in the community:
It is also compulsory to check the community you have joined is legit or not. Stay active in the community and engage with others. Read others' thoughts about the community and the project. If you are new in the NFT space, the discord server can be confusing for you. You can check my guide on discord servers for the NFT community.
How do you build an NFT community Worth Joining?
Building a community is not just creating a platform for others to join. The first step to building an NFT community is the purpose, ask yourself why you want to create an NFT community. For your brand or to help society.
If you want to create a community for your NFTs collection build a brand first. Build a team of managers and moderators who will manage the community. Hire a professional to build the community platform like a discord server.
Market your project and community so people can know that your community exists in the NFTs space.
Build audience trust, and host free NFT drops, and giveaways. Educate your community members and provide them with a clear roadmap of your project.
Stay creative and keep the audience engaged by providing them with interesting information, and thoughts. Give rewards to your active community members who always support your cause.
Conclusion:
I have tried to cover what is an NFT community and how can you join one. There are also many benefits of joining an NFT community like gathering knowledge, alpha information, whitelists, and giveaways. I have discussed it all in the detail. You can also create your own NFT community by following the above-mentioned steps. If you have any queries or suggestions do not hesitate. I'm waiting for your comment.