NFT platforms are a place for artists and creators to bring their artworks closer to the masses. Now with the explosion of the NFT space, many platforms are created to give users easy access to intellectual products. However, this pervasiveness leads to the fact that it is difficult for users to choose a superior platform. So we will provide you with basic information as well as features about the Top 5 NFT Marketplaces in 2023 that are currently storming the Crypto space. Note that the order numbers we give are not for comparison purposes.
So, here are our choices for top 5 NFT Marketplaces in 2023 that you can consider.
1. OpenSea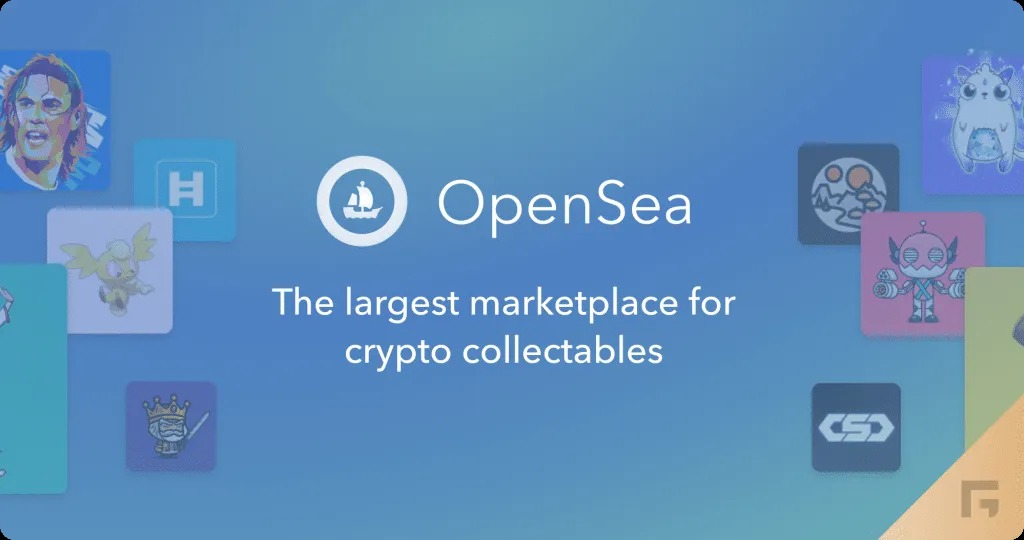 OpenSea is the first decentralized NFT marketplace, founded by Alex At allah and Devin Finzer in January 2018.
OpenSea is a decentralized peer-to-peer marketplace for buying, selling, and trading rare digital goods, from gaming items to collectibles and works of art, built on token technology. non-fungible (NFT) and runs on the Ethereum blockchain. OpenSea can be considered the largest NFT marketplace, as it has a wide range of items available in more than 200 categories. OpenSea currently has over 10 million monthly visits to the site. This is also the foundation for some of the most popular NFT projects like Cryptopunks, Axie Infinity, Gods Unchained, CryptoKitties, SuperRare, and more. At the same time, the platform also attracted the attention of many famous names such as Mark Cuban, Gary Vaynerchuk and Chamath Palihapitiya.
Website: https://opensea.io/
NFT trading on OpenSea
Transactions on OpenSea are a minimally fiduciary operation. Your transactions will be based on smart contracts, not third parties.
OpenSea allows NFT trading on the global market but does not have custody of any of the items listed on the platform. Instead, OpenSea allows transactions through smart contracts as users store their items in a wallet of their choice.
ETH is the default asset used to buy NFTs, However, the platform also accepts over 200 payment options like USDC, DAI, REVV, SAND, MANA, wBTC, MEME, and many more.
Highlights of Opensea
OpenSea has low transaction and listing fees. Sellers and buyers pay up to 2% to 2.5%, This gas fee is much lower than other markets where the fee is usually 7.5% to 8.5%.

OpenSea also offers free Gas for the highest bid auctions.

OpenSea provides a lot of features and support for users, especially for artists and creators

OpenSea connects directly to wallets like MetaMask and many other popular Crypto Wallets.
2. Nifty
gateway
Nifty Gateway, was created by a cybersecurity company called Gemini and acquired by twins Cameron and Tyler Winklevoss in November 2019. It is an exclusive NFT marketplace that incorporates blockchain technology into works. Collective art aims to create a rich set of assets of high value.
Nifty Gateway creates a space dedicated to music and artwork that has been curated by the Nifty team. This is where the world's top artists and creators gather. Users can find music works by famous DJs and musicians such as Deadmau5, Carl Cox, Gramatik, Ozuna and rapper Lil Yachty. The murals of sports superstars such as NBA basketball player, Kobe Bryant or football player, Mesut Ozil. Besides, users also have the opportunity to admire unique works of art and digital collections from leading creators such as Beeple, the author of the highest-priced work of all time "The First 5000 Days" worth $69 million.
Website: https://niftygateway.com/
Trade NFT on NiftyGateway.
In order to trade or buy products on Nifty Gateway, users need to create an Omnibus Nifty Gateway Wallet using MetaMask.
On Nifty Gateway, the transaction fee is usually 5%, one of the disadvantages of Nifty Gateway is unexpected and non-transparent fees. But conversely, every time the artwork is resold, the artists get 10% of the profits back.
Besides, Nifty Gateway only allows Direct withdrawal to Bank accounts in the USA. Artists in other regions may have to transfer their sales profits to a crypto wallet and then use the crypto wallet to deposit funds directly into their bank account.
Highlights of Nifty Gateway
The aesthetic of artwork created by the top artists and creators in the NFT world

Users can get 10% commission when their NFTs are resold.

High level of safety and security, as the platform originates from a cybersecurity company Gemini
3. Superrare

Super Rare, founded in 2017 by John Crain, Charles Crain and Jonathan Perkins, is a proprietary art-focused NFT marketplace based on the ETH Blockchain. That means it's very difficult for users to get their work on the platform. However, once you've joined Super Rare, there can be a lot of potentials for your artwork to hit the ground running and sell for sky-high prices.
In fact, the main feature of this platform is reliability when using the Ethereum blockchain, artists and collectors can always be sure that proposed NFT works cannot be modified.
SuperRare also stands out from its competitors as a platform where Crypto Art lovers can connect and interact with each other. That's why users can see who are the most famous collectors and trending artists, and how many works they have bought or created. You can view works of art, with their description or history.
Website: https://superrare.com/
Buy, sell, and create NFTs on SuperRate
This highly selective platform does not seem to care about celebrity contributors and imposes strict requirements on NFT works allowed appearing on the platform. This makes SuperRare one of the most desirable platforms in crypto art. For accepted works, artists can only mint one original for more exclusivity and scarcity.
In addition, SuperRare's smart contract system allows the creator of the work, to receive a commission from the resale price to the secondary market, similar to royalties. Every time NFT is resold, its creator gets back a percentage fee, and commission on the first resale, the artist gets 85% profit while SuperRare has 15% commission.
However, one of the limitations of Super Rare is that the gallery fee is quite high up to 15%. While other fees include a buyer's fee of 3%.
Highlights of Super Rate
Scarcity and uniqueness of NFT. work

Buyers can trace the origin of NFTs clearly and transparently

Creators have the opportunity to receive commissions until later sales.
4. Foundation
Foundation was launched in February 2021 in the United States. The Foundation's primary focus is on exclusive digital art. The platform is built on the Ethereum network. It calls itself the new creative economy. Despite being late in the NFT space, the practice has recently achieved a certain amount of success. The long list of creators with NFT marketed includes the likes of *Chris*, Pak, Kevin Roose, ppplleasr, Jack Butcher, and more.
Edward Snowden NFT is one of the featured works auctioned on the Foundation, the work is a court ruling that mass surveillance by the US National Security Agency violated the right to privacy, sold for $5.4 million and all were donated to a press organization.
Webste: https://foundation.app/
Trade NFTs on Foundation
The reason why Foundation is listed in the top 5 NFT marketplaces in 2023 for artists is that it can be very difficult to get NFT products into Foundation. The Foundation reaches out to the NFT community by letting artists choose their own and inviting other artists to join the marketplace.
Artists will receive 10% of the sale value whenever a collector resells their work to another for a higher price.
Besides, the fees at Foundation are quite high, the highest gas fee for a transaction on the platform is 15%. Gas fees depend on the buyer and seller, and if you are selling and the buyer has not completed the transaction, you can pay additional gas fees to expedite the transaction.
Foundation Highlights.
Foundation is a platform that streamlines the user experience, providing a simple way to bid on digital art.

The platform provides transparency and trustlessness for the auction process making it easy for users to know when a work was created, who created it and the entire history of who owned it. since then.

Because the artists participating in the platform are carefully selected, the works of NFTs on the platform are unique and highly valuable.
5. Rarible
Rarible is a Moscow-based platform launched by Alex Salnikov and Alexei Falin in early 2020. It is essentially a digital NTF marketplace focused on art assets. It is also one of the largest open source NFT marketplaces where buyers can mint, buy or sell digital collectibles. The platform's primary focus is on art content and virtual collectibles.
Normally, products created from NFT will be traded through ETH. However, the Rarible team also wants to grow the community through Rarible's native token, RARI.
Buy, sell, and create NFTs on Rarible
What makes Rarible really stand out is its unique NFT molding process. Artists or collectors can mint NFTs without having to code their own or learn to code. Besides, the gas fee on the platform is also extremely low, only about 2% to 5%. Therefore, there are very few barriers to entering the platform and almost anyone can join the platform, create NFTs
One of the downsides of Rarible is essentially its low barrier to entry. While this is great for artists and especially those without coding skills, it can make the platform very saturated and crowded. As a result, users will never know if their NFT will sell or even approach a potential collector.
Besides, Rarible gives users a lot of freedom as they can also set their own royalty fees. Unlike other marketplaces where the royalty fee is fixed at 10%, Rarible users are allowed to set their own Royalties.
Webste: https://rarible.com/
Highlights of Rarible
Rarible is still quite simple for new users to manipulate and access.

Low gas fees and easy non-selective minting make it possible for anyone to generate NFTs on the platform

Changed transactions are done through a smart contract and the information is recorded on a blockchain ledger. This provides security and transparency for both buyers and sellers.
Summary
Each NFT Marketplace platform has different pros and cons and caters to a certain market segment. For example, if you are a new creator who wants to enter the NFT market, you can easily put your product to auction on Opensea or Rarible with a simple process and low gas fees. However, top creators and many well-known artists choose highly selective platforms such as Foundation or Nifty gateway, so judging which is best depends on your needs and preferences. user object. Besides, in the NFTs space, there are many platforms that provide creative space for many different areas of life and society such as sports, music, online video games, etc. All will be recommended by our experts and covered in subsequent articles.