In 2021 we've seen explode in the popularity of NFTs and there was not another day that we do not hear about a new NFT animation artist making record amounts from NFTs digital arts. We've been looking in the metaverse for the best NFT animation artist and artwork. Today we're going to share the Top 10 NFT animation artists to watch and follow in 2022. We will always remember 2021, As the new year approaches the mainstream and a new innovative economy is born. NFT communities have sprung up all over the world to support previously unknown digital artists who have now discovered fame and fortunes in this new age of digital art.
Can you guess what is the word of the year according to Collins Dictionary, it's "NFT" for the year 2021. But the question we all want to be answered is, will NFTs maintain their popularity. There's a lot of talent across the NFT space. But we have compiled a list of the top 10 of the best and most promising NFT animation artists today. So let's get into it.
So the first one on our list today. Pak is the chief among the many mysterious and enigmatic characters, operating in the NFT space. Pak is also known as Murat Pak. He is a pioneer in adopting a clean geometric style in the NFT space. As seen in the black and white circular image. He uses it in a place of a personal photo. Pak keeps his identity hidden to drive attention toward his art and keep his personal life private.
We haven't heard much about pak, until late last year when soda bay's auction house announced an upcoming auction for Pak's work. While Beeple was hogging the limelight after his multi-million dollar auction back in March of last year. Pak was working hard for developing their new NFT project called "Merge". The merge collection used a novel "NFT Mechanism" where investors bought up 2,66,445 units. Pak had been hinting at a mysterious project all the way back since July of 2020. Investors were not disappointed, more than 28,000 art fans collectors, and investors took part in the merge. The auction raised just shy of 92 million dollars. Far surpassing beeple's record. Although whether the merge counts as a single artwork is debatable. It's not clear, what pak is working on right now. He definitely an NFT animation artist to watch.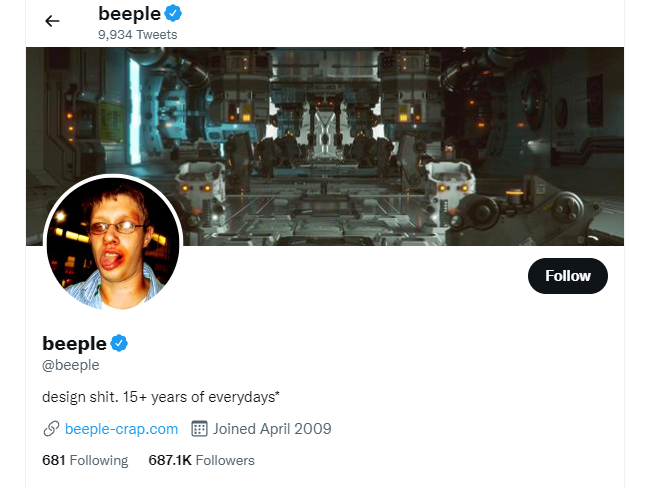 If you've heard about NFTs. You've heard about Beeple Mike Winkelmann aka beeple works out of South Carolina USA. He was the most talked-about NFT animation artist in 2021 for good reason. By the end of March, last year beeple had sold 845 artworks for
more than 113 million dollars. Which is much more came from the sale of a single artwork called "everydays". The 5000 days, everyday sold for 69 million, despite the sale making him one of the wealthiest living artists, beeple hasn't slowed down. He's actually working harder. In November people again collaborated with christie's, to auction off, a new artwork called "human one" which sold for 29 million dollars. "Human one" also included a sculpture to permanently display the NFT, called a kinetic video sculpture. Beeple will keep remote access and creative control over the artwork forever. Allowing it to evolve over time.
The next one on our list is XCOPY. He is a well-established NFT artist with a really unique and interesting style. His style varies massively from piece to piece. But much of his existing work contains a mixture of cartoonish illustrations and vibrant colors. Overall there's a strong punkish feel to his work with lots of neon.
XCOPY's work depicts a wide variety of subjects but you'll usually find a few neon skeletons and hallucinating.
The artist's bio explains that his art is about apathy and death dystopia through distorted visual loops. Like pak, x-copy uses a pseudonym but has revealed that he's based in London UK. XCOPY's success in the NFT arena over the past two years parallels the success enjoyed by the global NFT movement. One of his works titled "A coin for the ferryman" was sold for 139 dollars back in 2018. But towards the end of last year, the same NFT sold for more than 6 million dollars making XCOPY one of the most successful NFT animation artists.
Mad dog jones is a Canadian artist and photographer. Mad dog's artworks combine sci-fi elements with dystopian themes and often feature a strong cyberpunk element. Mad dog's prefers to work from original materials. Usually rendering his artworks from photographs or drawings. The Canadian artist made his name in the digital art world by sharing his content across social media but only dived into NFTs in 2020. His first NFTs collection included 100 NFT pieces. Each of which sold for a modest one dollar. Mad dog's groundbreaking and best-known work is "replicator" which sold for an impressive 4.1 million dollars. He offered the first multi-generational NFT experience, as implied by its name. This NFT artwork can generate new and unique NFTs every 28 days. But only up to seven generations t none of the NFTs will produce any more NFTs.
Mad dog is a well-known and active member of the NFT community. Even hr tweeted that "2021 was the year beeple became a household name and who knows maybe in 2022 mad dog jones will be a household name".
Nayla Hayes:
There are few 13-year-old self-made millionaires but Nyla hayes counts herself among them. There isn't much that we can say about haye's life. She began drawing at 4 years old and started her iconic long neckies collection at the age of nine. As the name suggests hayes NFT collection features hundreds of long-necked women a mixture of celebrities family members and originals. The long neckies art stands for women from all around the world and diversity. The purpose of this art is to make people satisfied with their own skin and to make empower young girls for being themselves.
When asked why the long neck, hayes revealed a love of a particular dinosaur "The brontosaurus". Hayes has already earned a whopping 5.7 million dollars.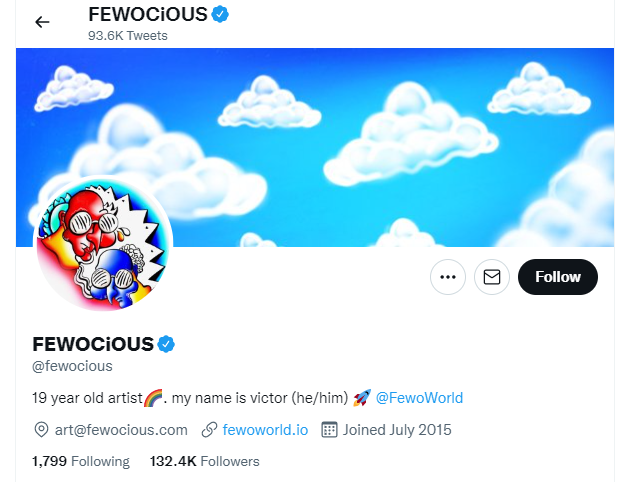 The real name of Fewocious is victor langlois. He is another young NFT animation artist who enjoyed his breakout year in 2021. The Seattle-based artist sold his first painting at just 17 years of age and through a series of successful NFTs. He accumulated an enormous 17 million dollars. Lucy's best-known artwork explores personal vulnerable themes in the artist's life. It combines a surrealist style and a vivid color scheme.
Langlois's bio explains that his art represents snapshots of his memory and a mirror into his heart. One of his latest pieces is titled hello "I'm victor Fewocious and this is my life went on sale" through christie's auction house in June of last year. The collection sold for just over $2.1 million. Since then Langlois sold another collection titled "nice to meet you I'm Mr misunderstood" for $2.8 million through soda bay's auction house. The soda bay's lot also included a physical copy of the artwork, a custom suitcase, and some hand-painted clothing from Langlois's upcoming clothing line.
Isaac wright is known in the NFT space as drift. He gained popularity for climbing skyscrapers bridges and other high-up places to take amazing photographs. After serving in the US army for 6 years wright. Wright's iconic collection is titled "where my vans go" and includes 117 NFTs. Each of which is a photo taken from somewhere up high in the united states. But unfortunately, wright got into some legal trouble last year. Police in his hometown put out a nationwide warrant for his arrest for his spider-man-like escapades. After spending 100 days in jail his work was featured on the front page of the new york times. Wright has reportedly made around $6 million from his NFT collections. If you want to check out some truly incredible and unique photos. Check out drift's collection on opensea.
Shay the surrealist is a 23-year-old digital artist from Delaware USA. The artist has been making digital art since 2014 and last year started selling her work as NFTs. She specializes in manipulating stock photos in adobe photoshop turning the ordinary into the extraordinary. Much of Shay's work combines
human portraiture with natural elements like flowers, woodlands, sunsets, and sky to symbolize human emotions. Shea's work has been exhibited throughout the world including at the ocean decade exhibition which was held at UNESCO's headquarters in Paris. Outside the NFT space, shay worked with multiple famous brands including Netflix, Adobe, and recently AMC, where she designed custom artwork for the walking dead.
Dan Jews whose real name is Leopoldo D'Angelo is an NFT animation artist, art director, and graphic designer based in Milan Italy. His artworks fall under the sci-fi and futuristic banner. And often feature dystopian cityscapes illuminated by neon lights. The digital artist explains that blade runner and ghost in the shell were two of his biggest influences. Beeple is his favorite contemporary artist. In his career, he has made nearly $5 million by selling his artworks as NFTs and he is the 5th best-selling digital artist
on the SuperRare marketplace. Dangiuz has also enjoyed a fair amount of professional success as well, having worked for Adobe, Maserati, and Nvidia. Dangiuz is an active member of the NFT community and recently revealed "I'm most proud of is the number of people I've directly or indirectly onboarded"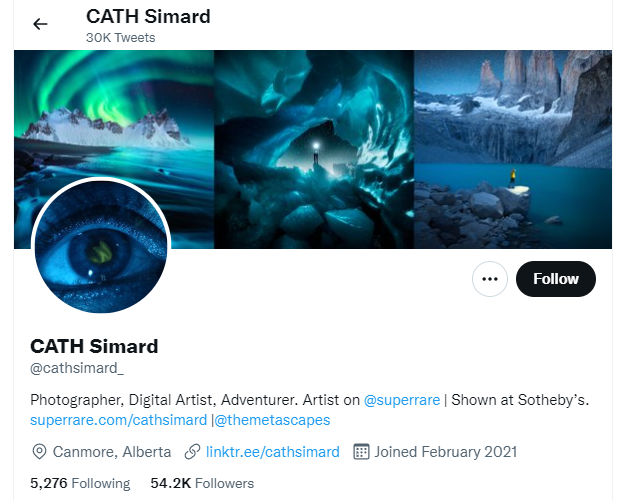 The last artist today is Kath Simard and she is an explorer
digital artist and landscape photographer based in Canada. Her photographs depict astounding scenes and locations, from some of the remotest yet mesmerizing areas around the world. Kath
doesn't have a huge collection of NFTs, available to buy. But the few available artworks are selling for sums between $70,000 and $300,000 on super rare. It's likely that cath's NFT artworks will remain scarce due to the nature of her work, chiefly the difficulty
of getting to such remote locations.
On her website, Kath explains that each image is the result of days of exploring the wilderness, hiking hundreds of kilometers, and hours spent creating on the screen. Despite her short supply of NFTs, Kath remains a well-known artist in the NFT space.
What did you think about our list today which NFT animation artists we did not mention, make sure to comment on them down below. If you have any questions make sure to ask.