Trading cards have always been valuable and used by traders. NFTs became popular in 2021 and people started to become interested in NFTs trading cards as well.
So I have researched a lot about NFT trading cards and listed some of the most valuable NFT trading cards.
What are some most valuable NFT Trading cards?
NFT trading cards are not physical cards. You can easily trade them using your digital wallets. NFT trading cards are becoming more common among NFT enthusiasts, and some NFT trading cards allow users to earn while playing.
Here is the list of the most valuable NFT trading cards.
1. SoRare: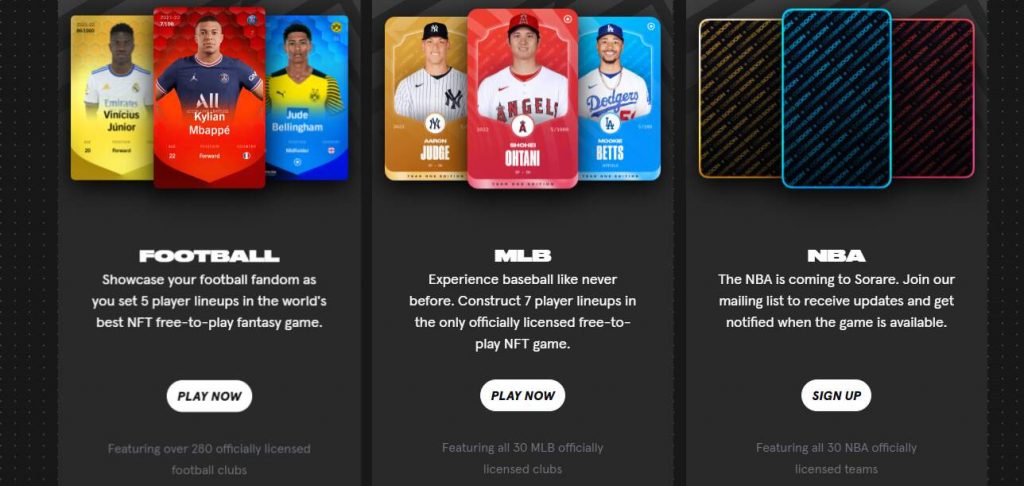 Official site: SoRare.com
Card type: Play-to-earn / collectibles / sports
One of the most valuable NFT trading cards is the SoRare. SoRare cardholders are invited to play a fantasy soccer game and a fantasy baseball game. MLB. You can line up your team using your NFT player card. There are 280 officially licensed clubs accessible on this platform. You can sell, buy, trade, or upgrade your virtual football team using these NFT player cards.
SoRare has become the only official licensed MLB NFT game available. You can line up your 7 players using these sorare NFT cards. You can also earn rewards and points on the performance of your players in real MLB games. Throughout the week, cardholders have the opportunity to compete in a variety of fantasy MLB competitions.
Atletico Madrid, Juventus, Bayern Munich, the MLS, the Korean League, and the Japanese League are some of the big European clubs SoRare has acquired rights to with its worldwide following.
It was built by Nicolas Julia and Adrien Montfort back in 2018.
These games are based on the most popular Ethereum blockchain. Basically NFT cards are ERC-721 tokens that you can sell and cash out on secondary marketplaces like OpenSea.
According to the rules of traditional fantasy football, the ranking of the teams is determined by the real-world performance of the teams' players.
2. Curio Cards
Official Site: Curio.Cards
Card type: Art / Collectible
If you are a novice or experienced in NFT cards, you must have heard the name of curio NFT cards. These cards were introduced as an online digital art gallery in May 2019. Curia NFT cards are unique NFT cards that are considered the first Ethereum blockchain-based NFT art collection. There are 30 NFT cards in this set. This is a collection of unique cards from card no 1 to card no 30, and 7 different NFT artists created this set based on their own artistic styles.
Each set of 30 is unique and completely different from the other sets. The supply of these curio NFT cards is limited. The supply can range from as low as 111 to as high as 2000. There have been approximately 30k curio cards minted to date and 4k of them are burned or destroyed. As I have mentioned above these NFT cards are considered the first Ethereum-based NFT cards, so they are not only unique and original NFT cards but the most valuable cards compared to all other art NFT cards available in the market.
On October 1st, 2021, Christie's auction house auctioned off a set of 30 cards along with the 17b misprint for an astonishing $1.2M (393 ETH). At OpenSea, you can buy and sell Curio Cards.
3. Rare Pepe:
Official site: RarePepeDirectory.com
Card type: Meme / Collectible
OpenSea: Emblem vault
Pepe NFT cards are based on a meme theme and were introduced in 2016. This collection was originally minted on counterparty.io and traded as XCP on the bitcoin blockchain. These NFT cards are also considered as the first NFT in the world and this collection had 36 series with different rarities and characteristics. These series are still growing.
There was no concept of the meme in the world when Matt shared the Pepe frog on the internet. The Pepe frog gained people's attention and they started sharing this frog art as a meme. This art became very popular with the passage of time.
The first card in Series 1 shows Satoshi Nakamoto as a green figure, called RAREPEPE NAKAMOTO. At the annual NFT NYC conference on November 5, this rarest NFT card sold for 147 ETH.
NFT cards are also wrapped, so they can be traded easily on secondary marketplaces like OpenSea as ERC-721 tokens.
Holders and traders of original PEPE NFT cards have been using a digital decentralized wallet called emblem vault. The main reason for using this wallet is because of the special feature, which allows users to combine and store NFT cards from different blockchains into the wallet, so they can trade on any blockchain through Ethereum Virtual Machine (EVM).
As a result of their large supply, rare pepe have lost their demand and utility. If you want to buy Pepe NFT trading cards you can visit emblem vault on opensea.
4. Crypto Strikers (Wrapped Strikers):
Official Site: Strikers.Auction
Card type: Sport / Collectible
Opensea Link: Crypto Strikers (Wrapped Strikers)
Crypto Strikers (Wrapped Strikers) was launched in June 2018 as the first sports NFT card project. Crypto strikers collection is based on 100 players from the 2018 FIFA world cup, and 32 of them are limited mint in the special edition set. 32 out of 100 players are part of a limited edition set called "iconic set". These are a total of 10,261 digital soccer trading cards.
Crypto Strikers was originally designed in anticipation of the 2018 FIFA World Cup. On June 11th, 2018, Benn Gurton and Gianni Settino released their Ethereum blockchain sports cards after finishing their creations in May.
This is due to the fact that crypto strikers were minted on an early and incomplete ERC-721, which resulted in some errors with the new protocols. This wrapper enabled these NFT cards to be configured with marketplaces like OpenSea. User can unwrap their card whenever they want.
Those who are fans of FIFA can pick up the crypto strikers (wrapped strikers) from opensea and own a piece of history.
5. Candy Digital:
Official site: candy.com
Card type: MLB / Sports / Collectible
OpenSea: CandyDigital
Baseball's official NFT cards marketplace, Candy Digital, allows MLB fans, collectors, and traders to buy and sell cards. There are a number of investors in Candy Digital, including Payton Manning and Gary Vaynerchuck.
The agenda and mission of this MLP platform are to develop a new sports culture for the upcoming generations by providing legit digital assets to fans and by building a connection between sports NFTs and fans.
The platform not only offers MLB NFT cards but allows users to sell and buy other sports cards as well. Candy digital does not just focus on sports cards, but also provides its fans with more personalized NFT cards.
If you want to purchase the newly released NFT cards from Candy Digital, you can visit their official website or if you are interested in buying their old cards you can visit their opesea page.
6. Gods Unchained:
Official site: GodsUnchained.com
Card type: Play-to-Earn / Collectible
OpenSea: OpenSea Page
Gods unchained is the first Ethereum blockchain-based free-to-play NFT card game. It is an NFT trading card-based multiplayer game that pays its players for participating in this game. It is a Play to earn game, meaning players can earn money by playing this game.
James Ferguson and Robbie Ferguson founded God's Unchained game.
This game is primarily competitive gameplay in which players compete to construct a deck of cards stronger than their opponent.
This game allows users to sell, purchase, or trade their NFT cards freely because in this game players completely own their NFT cards.
This is how this game works. Players can rank higher in this game by following these steps without spending money on the platform.
The digital cards you earn by playing games are unlocked through packs. There are called common cards, which are not minted or linked with the Ethereum blockchain.
Flux is a special tool for this game that helps players make their common cards more valuable. Players can earn Flux by winning the games.
For players to convert these standard core cards into high-quality cards, they must win enough Flux to be able to access the forge in the launcher. These high-quality cards are directly minted on the blockchain, and players can transfer them to their wallets. These high-quality NFT cards can be bought and sold using real money.
Every NFT card has its value in this game, some are more valuable, and some are less, but the team behind the game takes care of their players. So they don't have to spend much money to build a high-quality deck of cards. As I have mentioned above these are tradeable cards, so you can purchase highly valuable cards from other players to build your own strong deck. It's all your choice.
You can visit their official site and opensea page.
7. Spells of Genesis:

Official site: SpellsofGenesis.com
Card type: Play-to-Earn / Collectible
OpenSea: OpenSea Page
Spells of Genesis was released in 2017 and is the first digital game based on blockchain technology. Spells of Genesis is a combination of different trading card NFTs with the unique key style of a Point-and-Shoot arcade game.
The objective of this game is to collect game cards, which are NFTs, to build a strong deck of cards to defeat the opponent. Players can sell, purchase, and trade their game cards and can build a strong team against their opponent players.
Basically, the fundamental concept behind SoG is very simple in many ways, and the game can be very engaging if you play it enough. In order to succeed in this game, you are required to build a strong strategy against other players.
The gameplay itself consists of a number of choices you can make, such as collecting cards and combining them. This will enable you to build a strong deck of cards that you can use to defeat your opponents. With the acquisition and trading of cards, the player can construct a deck of cards with which to defeat his enemies, which can include characters, spells, and special abilities.
This game requires players to have a deck of cards to play a spell. Players choose the most appropriate deck of cards based on the characters, spells, opponent skills, and environment.
The term blockchainization is used in this game to distinguish the process of minting NFTs. If you want to mint your cards, you have to combine four cards and can mint them. This will be a level-up for you in this game. Now you can transfer your minted cards to your digital wallet as an NFT.
Players can buy the cards and mint them later in this game. Players can boost their stamina by purchasing more valuable cards, which can be bought using the special in-game digital currency.
8. Age of Chains:

Official site: AgeofChains.com
Card type: Play-to-Earn / Collectible
OpenSea: OpenSea Page
Age of chains is a bitcoin blockchain-based play-to-earn game that was built back in 2016. This is a 1 vs 1 type of game, in which both players build NFT cards using their skills in order to kick out the other player. The Age of Chains game was released for the first time in November 2016, and Woodcoin's Guardian was among the first cards released in the game when it launched. Age of Chains is developed by a berlin based company Streamstars UG by Kilian Kunst.
The NFT cards of this game are traded on the bitcoin blockchain using the Counterparty protocol. Players can use any bitcoin coin wallet to store and transfer these NFT cards.
In my list of play-to-earn games based on activity, the age of chains is one of the bottom liner games. Age of chains is currently creating a 3D touch prototype of this game that will be improved with time and testing. If you are interested you can visit the age of chains official site and opensea page as well.
9. Force of Will:
Official site: FowTCG.com
Card type: Play-to-Earn / Collectible
OpenSea: OpenSea Page
The NFT trading card game and the story articles make up the two major components of the Japanese game Force of Will. Both major components play an important role together in this game to build a special environment of joy and fun. The first NFT card for this game was minted in 2016 with the support of FowTCG.com in support of earn-to-play blockchain games. The NFT cards of this game are created on the bitcoin blockchain using the XCP protocol.
A total of 1000 cards were issued, but 500 of each card have been destroyed, so the total issue is now just 1 of 500. These NFT cards were minted back in 2016 with a limited supply. So I predict that these NFT cards are going to be more valuable in the future as compared to the new NFT card projects. If you are interested in buying these Force of will NFT cards you can visit their official website and their opensea page as well.
10. Bitcorns: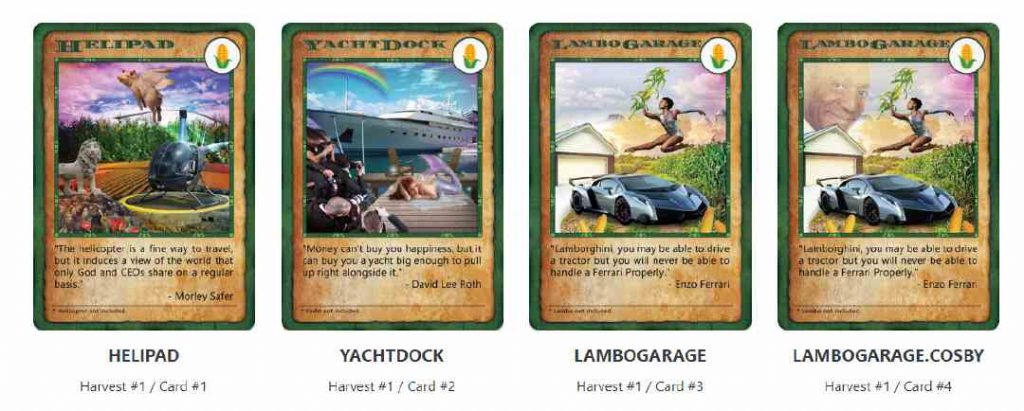 Official site: Bitcorns.com
Card type: Meme / Collectible
Bitcorns is a game based on simple corn collections. In this game, players have to collect the corn which is pretty simple, but collecting corn requires crops that not everyone has. The meme engineers developed the NFT trading cards, called bitcorn trading cards, based on the counterparty protocol. Players can earn the bitcorn trading cards from the formers in this game.
The first bitcorn NFT trading card was minted on 30 January 2018 and now there are now 270 plus different types of bitcorns are minted with 15 plus harvest lots.
Players are supposed to collect maximum bitcorns to win the game. So the goal of this game is to collect as many corns as possible to be the richest player.
Players can build their farms by creating bitcoin wallets at bitcorn.com and can own crops as well. Players can easily harvest the corps who own farms, using the bitcorns cards. Players can also customize the design, layout and location of their forms and game assets during harvesting.
11. Ether Legends:
Official site: TCG.EtherLegends.com
Card type: Play-to-Earn / Collectible
OpenSea: OpenSea Page
Ether Legends is also a play-to-earn NFT card game that was created back in 2018. The NFT cards of ether legends are purely skill and illustrative art based. Elementeum is the token that is used for rewarding players and is also used as a digital currency on this platform.
The Elementeum token was originally developed in 2017 by Elementeum Gaming LLC to enhance and upgrade the experience of NFT card-based P2E players. Later, elementeum gaming LLC seized the opportunity, launched the game ether legends, and provided a secure digital currency to players of the game.
Production of physical NFT cards began in Q3 of 2018 with the launch of the Alpha release of NFT trading card games.
The beta version of ether legends was launched in the fourth quarter of 2018 and the official launch of the game finally happened in 2019. Since then, the ether legends team has been working on quarterly updates of the platform, as well as upgrading and releasing NFT cards on a semiannual basis.
Due to the fact that the game is based on skills, players are required to open at least 3 NFT trading cards. This will enable them to access all the exclusive features of this game. The Ether Legends shop currently offers a limited number of NFT characters and companion trading cards, which can be found here.
If you are interested in the ether legends NFT cards you can visit their opensea page or Enjin marketplace.
12. VeeFriends:

Official site: VeeFriends.com
Card type: Utility / Collectible / Investment
OpenSea: OpenSea Page
VeeFriends is an NFT project recently created by motivational speaker Gary Vaynerchuk. It is the aim of these NFT cards to build a strong community and provide digital assets to fans. The first collection of VeeFriends is called V1 and V1 contains 268 unique characters. Each card is especially illustrated by Gary himself, so the fans can feel the special and personalized connection with Gary.
VeeFriends is not considered the NFT card in the market and the team also doesn't promote it as an NFT card. But all NFTs can be traded so we can consider them as trading cards. Each NFT has its own special benefit or perks for the owners, buyer can get the perks by purchasing the NFTs. VeeFriends basically have three different types of tokens admission, access, gif, and access. The total NFT tokens of VeeFriends under these 3 categories are 10,255 and each of them has a unique perk.
Each NFT has a different level of access to the community, the goal of these NFT tokens is to build and support a strong community in the NFTs space.
There are many upfront perks of purchasing the NFT tokens because VeeFriends is a well-known brand and it will enhance further in the future. So you can hold your NFTs for a longer period and can sell them later at a higher price. Meanwhile, in this period you have free access to the community and can attend the yearly conference of VeeFriends.
Related: Is It Too Late To Get Into NFTs Or Is It the Right Time?