Facebook Reel is a feature that the "big tech" Facebook allows users to create and entertain with short videos. For videos that users find interesting, they can download to watch again and again or used in necessary cases. However, not everyone knows how to download Facebook Reel videos. That's why we will summarize how to download Facebook Reel videos for you with below instructions.
What is Facebook Reel?
Facebook Reel is a new feature that allows users to create and format videos with short content. This feature was created to compete with TikTok's short videos.
By using a few taps, users can upload videos to Facebook Reel to share with the world. Anyone can see your video so there are a lot of users who take advantage of this to become famous, reach more viewers.
Similar to Reel on Instagram, a video posted on Facebook Reel will only have a duration of 60 seconds. Facebook will also provide users with pre-existing templates created by others so you can use or redesign video mixes (Like the Duets feature on TikTok).
Thereby, it can be seen that Facebook Reel was launched with many outstanding features to attract viewers. Promising to be an explosive "tool" in the near future.
How to Download Facebook Reels for Free?
Downloading Facebook Reel videos is not a difficult task for users. However, how to download quickly, effectively, and for free, please refer to the following 2 ways to download videos:
How to Download Facebook Reel Videos on your Phone
Downloading Facebook Reel videos on your phone can be applied to both Android and iOS operating systems. To download successfully, please follow the following steps in turn:
Step 1: Access the Facebook application on your phone.
Step 2: Select Facebook Reel, click on the video you want to download. Next, select "Share" -> "Copy link".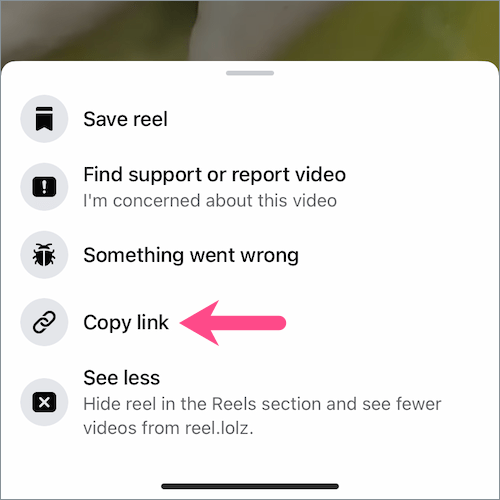 Step 3: Access the address of the websites that support downloading below:
Snapsave
FDownloader
Getfvid
Step 4: The user pastes the link you just copied in step 2 into one of the websites we provide. Then, choose video quality -> Download to download to your phone.
So, you have successfully downloaded the video on Reel to your phone or PC. At this point, you just need to open your photo library to review the video you've saved.
How to Download Facebook Reel Videos on Your Computer
Users will need the link to download Facebook Reel videos on your computer. However, at the moment, Facebook still does not support the Reel feature on PC. Therefore, you will have to perform a few more steps to complete the video download, details are as follows:
Step 1: Open the Facebook app on your smartphone. Next, go to Facebook Reel, scroll to the video you want to download.
Step 2: Select the 3-dot icon and then click "Save Video" to save the video to your Gallery on Facebook.
Step 3: Open Facebook on your computer. Select "Saved" on the left hand side of the screen. Soon, users will be transferred to the collection interface on Facebook. You can now see any Facebook Reel videos you've saved.
Step 4: Click to view the video you want to download in the gallery. Copy the displayed link.
Step 5: Open the website Fbreels.net or similar websites on your computer and Paste the copied link.
Frequently Asked Questions
Is there a fee to download Facebook Reel videos?
Users do not need to pay when downloading Facebook Reel videos to computers or phones. The download process will be completely free and does not limit any features.
Where is Video Reel stored when downloaded?
Video Reel when downloaded will be saved in your phone's gallery or download history in your browser.
Does downloading Facebook Reel videos take a long time?
Downloading videos on Facebook Reel does not take too much time. Users only need to perform all the operations that we guide above. It will be very quick, only about 2 minutes.
Above are our shares on how to download Facebook Reels videos.
Hopefully, through this article, you can successfully download reel videos from Facebook. And don't forget to experience and discover many videos from Facebook's Reel feature. See you in the next technical guides on our website. Thanks for reading.