Trust Wallet is a very popular multi-currency wallet today. However, many people still question whether it is safe to deposit their money here?
Trust wallet is a very popular multi-currency wallet today. However, many people still question whether it is safe to deposit their money here? Through today's article, I hope readers will understand more about how to use trust wallet safely and why it is so trusted by many people.
What is Trust Wallet?
Trust wallet is a decentralized cryptocurrency wallet in the form of a mobile application or PC installation. Simply put, this is a place to store coins or virtual assets.
Trust Wallet was created by the company Six Days, LLC run by Viktor Radchenko. On August 1, 2018, Trust Wallet was officially acquired by Binance – one of the world's leading cryptocurrency exchanges.
How Trust Wallet works
Trust Wallet acts as a bridge to individual Blockchains through their nodes. As we all know, every Blockchain has its own set of public addresses. This is where virtual currency is encrypted and stored. In essence, Trust Wallet does not hold or control any of the user's assets, it only provides access to the storage.
Trust Wallet is a free app, you only have to pay a very small fee when making a withdrawal. This fee is not received by Trust Wallet but is returned to miners to confirm your transactions on the Blockchain network.
What types of Coins does Trust Wallet Support?
Trust Wallet supports storing Bitcoin and all ERC20 or ERC223 Ethereum tokens. This means that you can use Trust Wallet to store many different cryptocurrencies such as: Ether (ETH), Ethereum Classic (ETC), OmiseGO (OMG), Qtum (QTUM), Binance Coins ( BNB), Augur (REP), VeChain (VEN), ICON (ICX), Walton Chain (WTC), Aeternity (AE), Bytom (BTM), 0x (ZRX), RChain (RHOC), Golem (GNT), Mixin (XIN), Aion (AION), IOS token (IOST), DigixDAO (DGD), Quick X (QCX),…
Up to now, the total amount of Crypto Assets that can be stored on Trust Wallet has reached more than 300,000 types of coins and Crypto assets.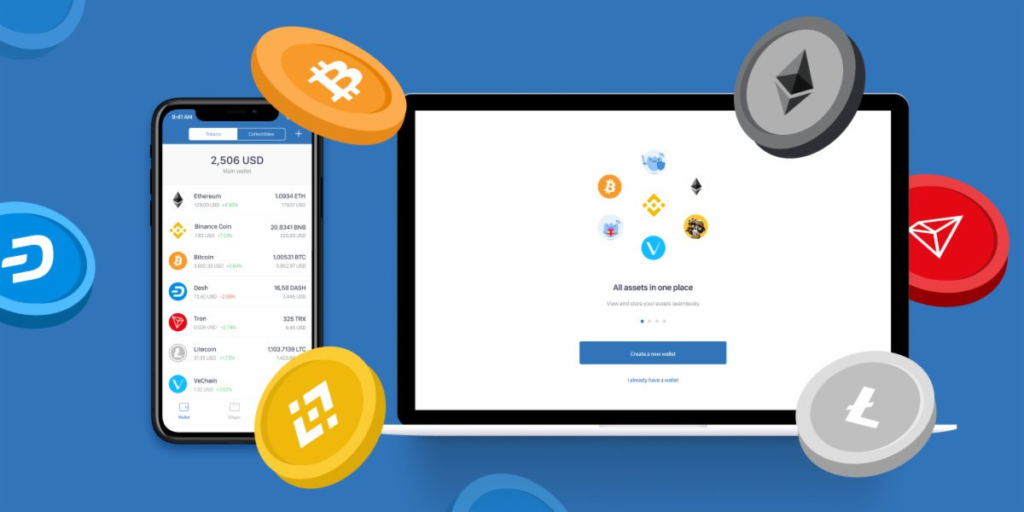 Outstanding Features of Trust Wallet
Storage Wallet
This is the main feature of Trust Wallet. With this feature, users can store digital assets in their wallet address instead of storing it on the exchange's wallet.
Exchange (Decentralized Transaction)
You can trade right on Trust Wallet. The built-in decentralized exchange in Trust Wallet includes a variety of coin pairs as well as Tokens. The majority of trading pairs will include Binance's BNB coin, ETH and stablecoin BUSD.
Swap
This feature allows users to quickly convert their crypto assets into another currency or other form of asset that suits their needs.
Staking
The Staking feature supports users to receive interest from their idle Tokens. Supported tokens include Cosmos (ATOM) with an interest rate of 10.11%/year, TRON (TRX) with an interest rate of USD 4.32/year, Tezos (XTZ) with an interest rate of 7%/year.
Trading on DEX
Trust Wallet started out as an Ethereum and ERC-20-only wallet, but with the launch of Trust Wallet 2.0 in 2019, it has grown to include all major and minor cryptocurrencies, and helps accessible to end users.
Following this model, Trust Wallet has launched a DEX login tool on its application, allowing users to instantly and seamlessly trade cryptocurrencies without worrying about the inner workings of the exchange. submit.
Some other Features
In addition, Trust Wallet also provides a number of other utilities such as: buying cryptocurrencies with a credit card, rating user reputation, managing coins or tokens, etc.
Trust Wallet Pros and Cons
Pros
High security. The best digital wallet to securely store your private key on your device. The user retains control of his private key.
Store a variety of coins and tokens.
Sponsored by a large corporation known as Binance. If in case the account is faulty due to the wallet, it will be compensated.
There is also the possibility of decentralized exchange and interoperability with dApps.
Users can have passive income when holding coins through the Staking feature.
Cons
High security supports users well in many situations but also requires you to sacrifice some utilities such as storing Backup Phrase yourself. If lost, the wallet cannot be recovered.
The staking feature is very useful but the number of tokens supported is small.
Is Trust Wallet really Safe?
Security is one of the most important features for investors in the cryptocurrency market. Therefore, any project or platform tries to ensure the highest level of security so as not to cause damage to customers and so does the Trust Wallet. Although this e-wallet has a lower level of security than cold wallets like Ledger or Trezor, it is also trusted by the community. Because since it was developed until now, Trust Wallet has never recorded a case of customers having their assets stolen or lost due to system errors. In addition, Trust Wallet also commits not to illegally access or use users' personal data to ensure that information such as passwords, Private Key is absolutely confidential.
How to Use Trust Wallet – Crypto Wallet User Guide
Instructions for creating a wallet
Step 1: Download the application to your mobile phone (Trust Wallet is integrated on both iOS and Android operating systems), then click "Install" to start the installation.
Step 2: Create a new address on Trust Wallet, open the newly downloaded application and select "Create a new wallet"
Step 3: Trust Wallet will provide Backup Phrase for you as 12 recovery keywords. You write them down on paper exactly in the correct order and keep them carefully, not revealing to anyone.
Step 4: The application requires confirmation of the 12 keywords above, follow the instructions and then select "Done". So your Trust Wallet has been successfully initialized.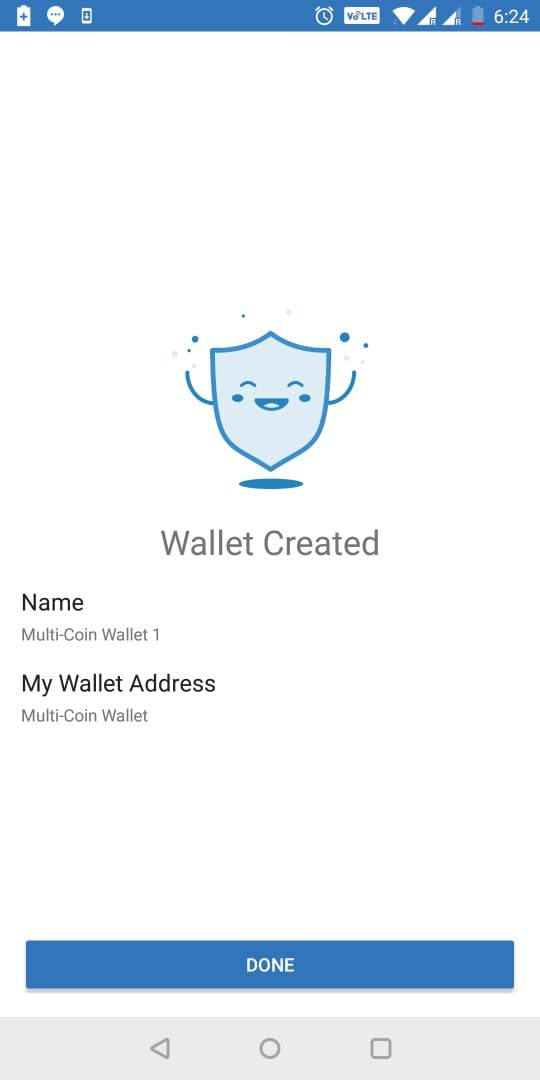 Wallet User Manual
Instructions for logging in and adding a wallet
Step 1: Open the application. Select "I already have a wallet".
Step 2: Select the type of Blockchain you want to add.
Step 3: Enter Private Key or Recovery Words to complete adding wallet.
Instructions for adding tokens to Trust Wallet
Step 1: On the right corner of the screen click on the "+" icon.
Step 2: Select the token or coin you want to add to the wallet.
Step 3: Return to the screen to confirm the selected coins and tokens.
Instructions for receiving coins and tokens from outside to Trust Wallet
Step 1: Select the type of token you want to receive.
Step 2: Click "Copy" to copy the wallet address.
Step 3: Send this address to the sender.
Instructions to transfer coins and tokens from Trust Wallet to the outside
Step 1: Select Token or coin you want to send.
Step 2: Click the "Send" button.
Step 3: Enter the address and amount of coins or tokens you want to transfer then click "Confirm" for final confirmation.
Frequently asked questions about Trust Wallet
How many Trust Wallet accounts can a user create?
Currently, according to the latest Trust Wallet policy, users can only create up to 15 different wallet accounts.
Is it possible to recover a Trust Wallet account?
If you forget your login password, you can request to recover your account provided you remember exactly 12 Seed Phrase phrases.
How to Use Trust Wallet Effectively?
As stated above, Trust Wallet is considered as one of the electronic wallets with a high level of security. However, in order to prevent theft of assets by hackers, users should raise their own awareness and action in account security. You can do it in the following ways:
Store 12 Seed Phrase phrases offline, absolutely do not store in cyberspace
Do not install apps from unknown sources
Do not link wallet accounts with unknown platforms and applications.
Does Trust Wallet support Staking?
Currently, Trust Wallet has integrated the Staking feature on the platform. So, users can completely Staking supported tokens like ATOM (Cosmos), TRX (Tron), XTZ (Tezos) to earn more income.
Summary
Thus, we introduced you to all the knowledge about what Trust Wallet is and the basic operations to how use trust wallet effectively. With the above advantages and disadvantages, we believe that each person has his or her own answer to the question posed at the beginning of the article. Don't forget to follow us for more updates on other wallets!