Showbox is an unlimited entertainment store where you can watch blockbuster movies, famous gameshows, and attractive sports programs for free. Instructions on how to download Showbox and install it on Android phones will be available in the article below.
Currently, the Showbox apk is unavailable for download in the Google Play store. Therefore, if you want to install this entertainment application on your phone, download it from a 3rd party.
You have to allow your web browser to install unknown apps before you can download Showbox and install this unknown App on your Android phone.
The download link and installation method will also be given per the instructions below.
So, How to Download Showbox and Install the Apk on Android Phones in Detail?
Step 1: Before downloading the Showbox application to your phone, you need to activate the function: Install applications of unknown origin or unknown sources on the device in use (All applications, if downloaded outside the Google Play store, are all considered applications of unknown origin, so to install these applications, you need to activate the above function).
To activate, read more info via this blog post "how to turn on unknown sources on Android."
Step 2: In the web browser that you are using, navigate to the below link to download the Showbox Pro Apk 12.1(100% working for Android devices).
Proceed to select a browser/app to start downloading the Showbox Apk to your device.
Step 3: After the successful download, you can proceed with the Installation.
Wait a while for the Showbox application to be installed on the Android device. Click open to access the application.
Step 4: Showbow application will ask you to grant permission to access photos and media…when first entering the application, click Allow to agree.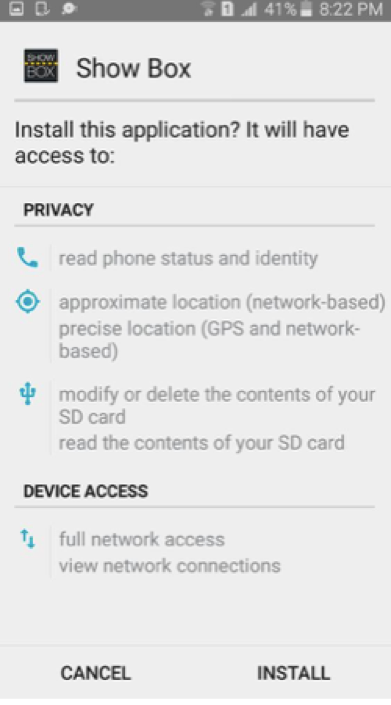 So you have successfully downloaded and installed Showbox on your Android phone. To watch the above programs, you can search for movies or TV Shows by entering the name in the search box (Search movies, TV shows…) or select the icon 3 dashes –> select the type of entertainment you want to watch.
Select the movie or TV show you want to watch –> click the triangle icon to open it.
Thousands of good movies, entertainment programs, and attractive sports programs are waiting for you. Download and install Showbox on your Android phone to enjoy these entertainment programs. Besides, the following top free movie-watching applications will also be references you should not ignore.
If you feel our website is useful, before you leave, please help the site with a small action to grow and serve you better.
If you find the above article useful and help you have clear answers for Showbox download and Install the Showbox APK on Android," please share it with everyone.

If you have any questions or comments, please write in the discussion section at the bottom. Thank you for reading!